Designed with special features so that it can be operatedby almost anyone.

Interface Panel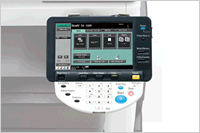 The front interface panel tilts up and down in three stages as well as left and right, making it accessible to just about anyone.
LCD Enlargement

With the touch of a single button, the LCD screen can be enlarged for easier reading.
Free-Stop ADF and Optional Assist Handle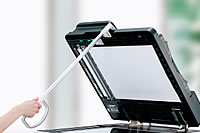 bizhub's optional Assist Handle makes it simple to lift the cover, even while seated, and our ADF's free-stop feature makes document handling a snap.
Blue LED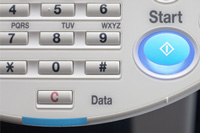 The blue LED start-up button and data lamp are easy to read, especially for those with colour recognition problems.