Reduce energy consumption
IH Fixing
Induction Heating (IH) Fixing technology only heats the roller's surface, rather than the entire roller. This reduces power consumption during the fixing process and results in shorter warm-up times. In addition, this feature automatically cuts off residual fixing heat when no print jobs are taking place, further contributing to energy savings.
bizhub C652/C552/C452/C652DS
Simitri HD toner

The small size and consistent shape of Simitri HD toner particles ensure sharp reproduction of text as well as line drawings. Its smooth outer surface provides excellent hold and promises high image quality across a diverse media mix. Furthermore, bizhub uses low-temperature fixing to affix the Simitri HD toner. Using less heat saves energy and effectively reduces paper stress.
bizhub C652/C552/C452/C652DS
bizhub C360/C280/C220
bizhub C200
bizhub C35
bizhub C25
bizhub C20
bizhub C10
bizhub 751/601
bizhub 652/552
bizhub 501
bizhub 423/363/283/223
bizhub 184/164
Compact print head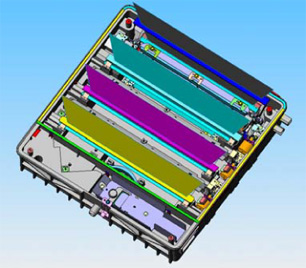 With the new compact print head, the four print heads employed on previous models have been reduced to a single unit. It also uses a high precision plastic lens to reduce the engine size. These features are aimed to consume less energy, as well as help reduce the size of the MFP and improve ease of maintenance.
Environmentally considerate plastics
Konica Minolta's initiatives for environmentally considerate plastics
– New polymer alloy recycled PET and bioplastic –
The newest bizhubs employ Konica Minolta's proprietary-developed new polymer alloy recycled PET and plant-based bioplastic for recycling-oriented societies.
Reduce paper consumption
Duplex Printing
Reducing paper use is a key factor for forest resource conservation. Konica Minolta bizhubs achieve such reduction with the double-sided printing function.