Product Highlights
Output Size :Min. 90 x 115 mm; Max. 320 x 1,195 mm
Output Type :Full colour (CMYK)
Recommended User
Paper Width: 330mm
Recommended Usage: Paper: Non-tack paper, tack paper, Film: Tack film (synthetic paper, PP, PET)
Copy Speed
(A4/Letter Crosswise)
Download More Information
Just the right size " Perfect Fit " Label Printer
"AccurioLabel 230" has been created to take center stage on the globally-expanding digital label market.
A digital label printing system that offers enhanced productivity, job flexibility, operability and excellent image quality with affordable system cost, is a "Perfect Fit" for business expansion and parallel use with existing analogue presses..
Digital Label Printing
Merits of introducing digital printing
Print jobs of various kinds and short-run jobs are increasing compared to long-run jobs of the past and printers are required to cope with orders with a quick turnaround. Taking advantage of the flexibility of digital printing, these orders that are difficult to handle with an analogue printing press can now be handled efficiently. In addition, values can be added to the print product using VDP or numbering, which helps differentiate the user among ever-diversifying market needs.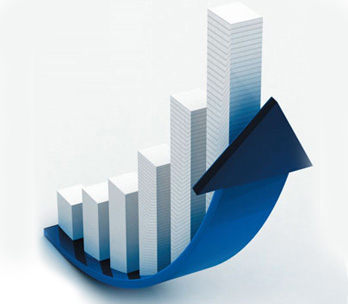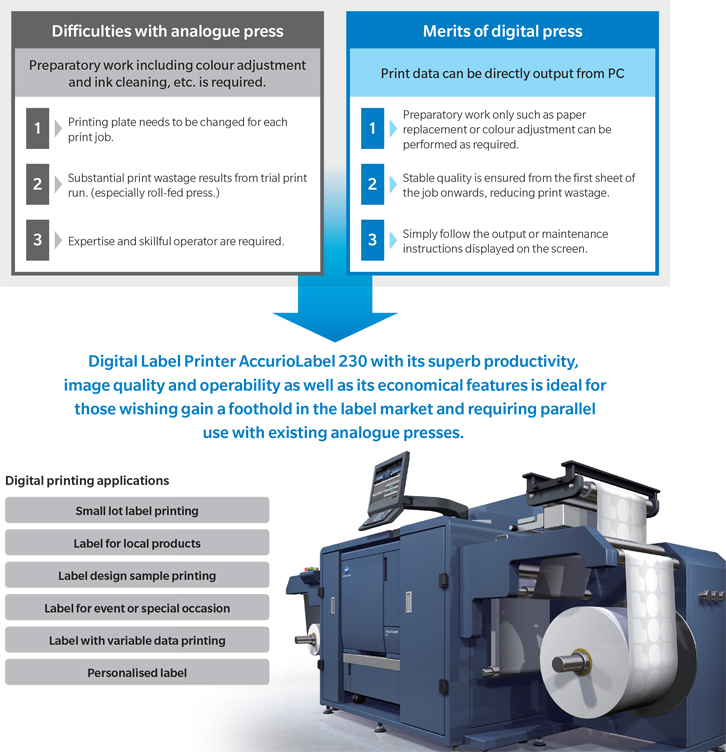 Applications realised by AccurioLabel 230 to meet a wide range of diversifying needs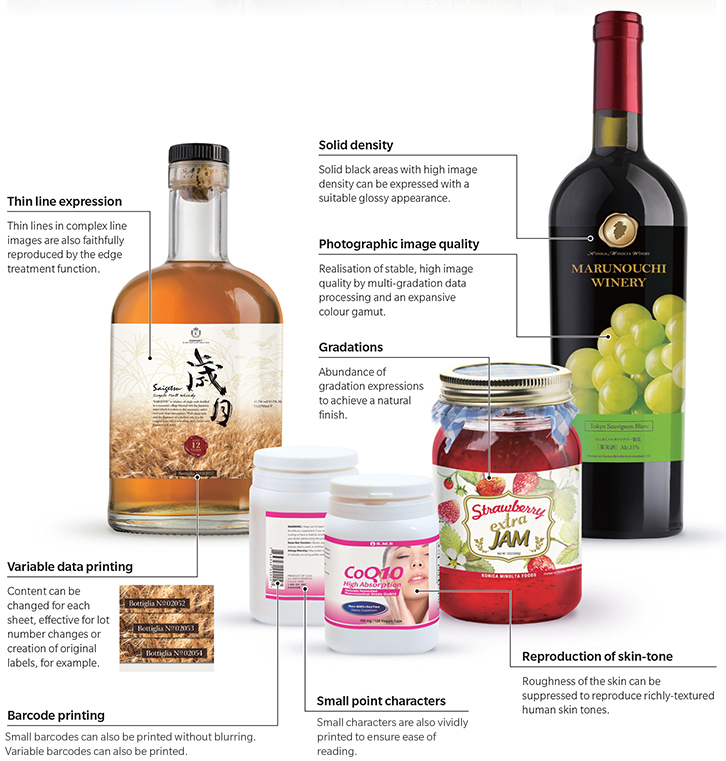 Enhanced Productivity & Flexibility
To meet demands of digital printing business such as shorter turnaround and expansion of print application,AccurioLabel 230 improves overall productivity and job acceptability especially overprinting capability on pre-printed transparency or coloured media.
Fast print speed up to 23.4m/min.
Most of tack papers and tack films can be printed with the maximum print speed of 23.4m/min. The print speed enhanced from previous model realises faster turnaround time and contributes to expand the printing business.
Short warm-up time
Warming-up time from job to next job is minimised by no turning off of fusing unit. It not only improves overall production efficiency by the minimum job switching time, but also minimise the paper waste.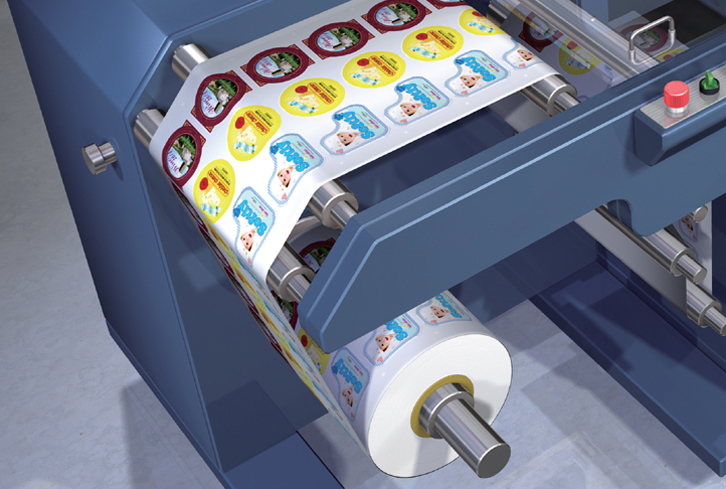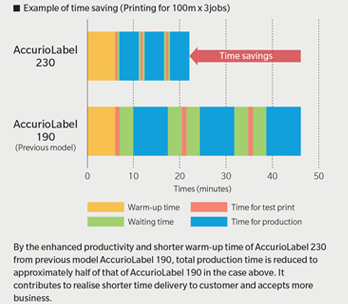 Long continuous printing up to 1,000m
Accepting larger size production without switching time and paper losses. When the toner coverages is low, a print mode that adds colour belts on both sides of paper is available for the long length printing that supplies necessary amount of toner to keep the developer fresh. The colour belts are not necessary when the toner coverage is 3.5% or above
Mouse-compatible operation panel
The large 15-inch display adopted is easy to view and operate. The angle of the panel can be freely adjusted to suit the user and the easy-to-understand GUI and guide messages ensure high operability when making settings. A USB mouse can also be connected to improve operability.

Wide media compatibility without pre-treatment
Thanks to digital toner HDE and Konica Minolta's low-temperature fixation technology, AccurioLabel 230 is compatible with a wide range of media including not only ordinary and matte paper, but also glossy paper, tack paper and film essential for label production. The user can not only select the ideal media to match applications but also print labels without the need for preprocessing.
Over printing capability with accurate registration
Over printing kit (Optional) is provided to enhance the usability. It enables digital 4-colour printing on pre-coated media with accurate registration that is realised by newly adopted eye mark sensor.

Food grade safe toner
The toners of AccurioLabel 230 are in compliance with FDA standards by the evaluation of the authorised organisation considering the safety of indirect food packaging label.
*The FDA standard is stringent safety standards to the potential product that consumers are in contact with food, pharmaceutical and cosmetic by FDA (Food and Drug Administration).
Banner printing capability
As well as store decoration and floor POP displays, the system can be used for long posters, signboards and an extensive range of other applications. The ability to offer promotional proposals with media mixes combined with labels also contributes to business expansion.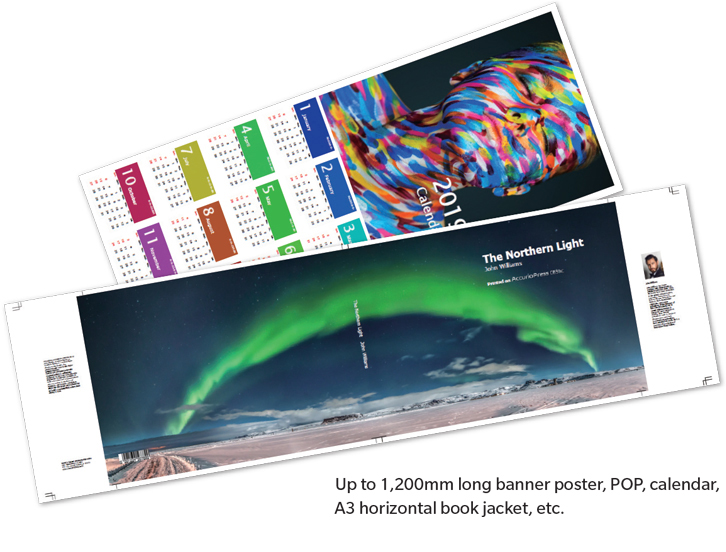 Excellent & Consistent Quality
High image quality is realised by Konica Minolta's unique technology through faithfully facing the high-level
needs in digital print market. Colour fluctuation is controlled within the minimum under various condition, which ensures stable and beautiful finish for the first through to the last prints. High image quality that brings higher value of printed material generates advantages for the print services.
High resolution 3,600 (equivalent) × 1,200dpi × 8bits
Combined with the reproductive capability of digital toner HDE, small characters and fine lines can be printed clearly and colour images beautifully output in rich gradations.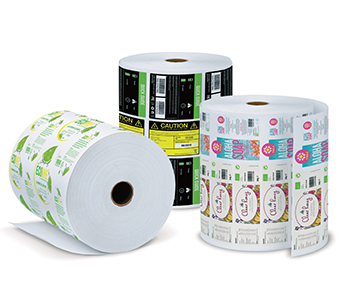 S.E.A.D. V
Enhanced Konica Minolta's Image processing technology S.E.A.D. V backed up with new generation of image processing ASIC and fully automated colour adjustment functions promise to provide print products with the best quality.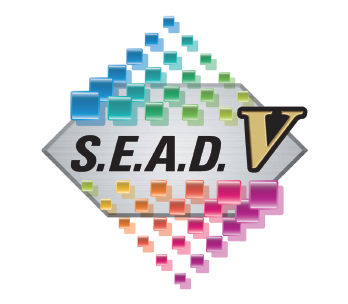 Simitri HDE toner
A 3D hybrid structure that contains functional polymers ensures a high level of compatibility with various types of media and enables realisation of ideal natural textures. In addition, it requires only asmall amount of heat for fusing, significantly reducing power consumption.
3-dimensional hybrid toner particles
Blue Wool Test: The results according to ISO 105 B2 (lightfastness test).
Remarks: The evaluation criteria is classified into 8 levels (1 to 8 levels),and the higher the value, the higher the lightfastness.
*1: The test results indicate that the lightfastness of Cyan and Black toner is ranked as 8 or higher.
High quality screens
Equipped with a total of 12 types of screen, 6 dot screens, 3 line screens and 3 stochastic (FM) screens, the system can be matched to applications and purpose such as proof output, photograph printing and moire suppression.

Line thinning & edge enhancement technologies
Furnished with a precise outline processing function that reduces blurring and streaking to realise high quality even for colour or outline characters.Characters on food or ingredients labels, for example that tend to be small, or barcodes can be printed clearly.

Auto-refining developing system
A new carrier is supplied together with the toner to refresh the carrier in the developer, stabilising the developer condition to maintain high image quality throughout the system lifetime. The longer developer
life also minimises downtime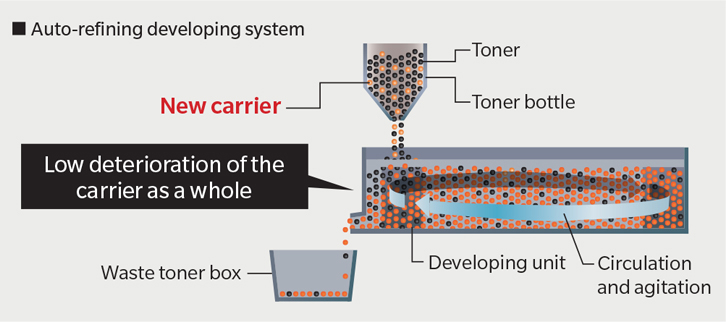 Outstanding Operability
Compared not only to flexography but also liquid development and inkjet printers, AccurioLabel 230 ensures ease of maintenance. Tasks that take time on analog machines such as color adjustments can be performed with ease on a digital machine. The ability to perform operations simply by following on-screen instructions makes it possible to operate the machine with little time needed for training.
Color Centro
Equipped with colour management software as standard, allowing operation, editing and setting for colour correction, colour profile creation, etc. that best suits the digital press used..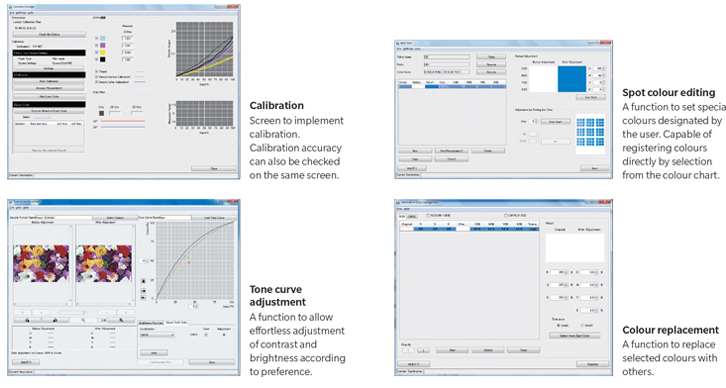 AccurioPro Hot Folder
AccurioPro Hot Folder allows you to directly print a PDF or TIFF file without starting an application. You can also preset the job settings and reduce the burden of making print settings.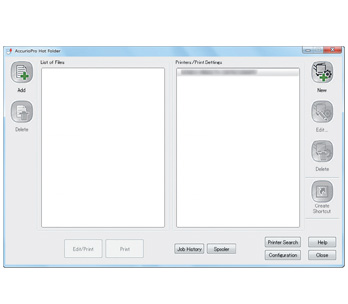 APPE 4.6
Equipped with Adobe genuine APPE 4.6. Capability of directly printing PDF files without using the print driver enables faithful reproduction of transparency. Optional UK-218 (APPE kit) required.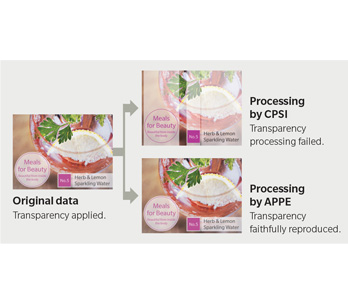 AccurioPro Label Impose
The AccurioPro Label Impose software tool provides the perfect solution. The application not only gives operators a simple and intuitive interface to automatically impose and prepare label jobs for printing. At the same time, the software also enables users to create PDFs as basis for the corresponding cutting tools on the die cutting equipment. Working seamlessly with the AccurioLabel 230, AccurioPro Label Impose perfectly complements Konica Minolta's label press!.