Product Highlights
Output Size: SRA3
Output Type: Colour
Recommended User
CRDs

(Centralised Reprographic Departments),


Government offices
Education facility printing departments Quick printers Print-for-pay
Copy Speed
(A4/Letter Crosswise)
Download More Information






Flexibility
Expand your order-receipt range in leaps and bounds
350gsm Thick Paper Compatibility
Capable of 350gsm thick paper duplex printing to expand printing service variations to include applications such as packages and sales promotion materials. Not only that, but AccurioPress is capable of feeding from 62gsm for thin paper and 81gsm for coated paper.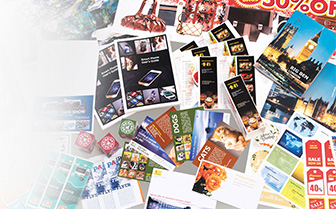 Top-of-the Class Banner print Compatibility
Banner Printing
Use of Multi-bypass Unit [MB-506] and Banner Printing Kit [MK-740] enables 1,200mm Banner printing to support a wide range of applications including A4 landscape book covers, double-parallel fold catalogues, banner ads and POPs.
* Optional
High-volume 750mm Banner Sheet Feed
Large Capacity Unit [LU-202XL] is capable of feeding a maximum of 1,000 sheets of 750mm long paper to realise ease of high-volume printing of items such as book covers, tri-fold catalogues and pamphlets.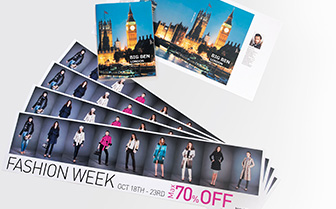 Powerful productivity for high-demand envelope printing
Envelope printing
Mounting Envelope Printing Guide Option [MK-746] in addition to Air-suction 3-level Paper Feeder Unit [PF-707] and Multi-bypass Unit [MB-506] enables printing of envelopes sent from Large Capacity Units [LU-202XL/LU-202m].
* Optional
High-speed, High-quality Envelope Printing
Use of the dedicated Envelope Printing Fuser [EF-103] suppresses creasing even at high speed to realise consistent envelope printing quality.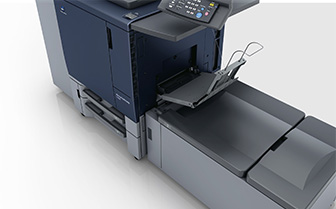 Full Range of Paper Profiles and Search Function
Paper Catalogue Function
AccurioPress is furnished with paper profiles recommended by Konica Minolta matched to user environment. Settings matched to paper can be selected as default values. In addition, the system features an improved search function for items such as required paper settings and registered settings, simplifying paper settings to enhance production ratios and enabling printing with optimum conditions matched to each paper type.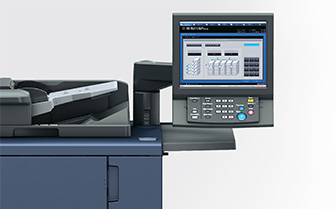 Optimum Use of Paper
A3 full-bleed printing
AccurioPress is compatible with a maximum paper size of 330 x 487mm and a maximum printing area of 323 x 480mm. As well, of course, as full-bleed A3 size printing with registration marks, the system is also capable of duplex A4 printing with registration marks.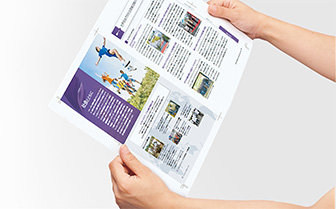 Improved Thin-paper Feeding Capability by enhanced Air Power
Air blow fusing separation mechanism
Air is blown to the area around the fusing nip to prevent the paper from sticking around the roller. This also increases conveyance performance, greatly enhancing separation performance for thin sheets of paper. Air volume can be set automatically or manually according to paper type.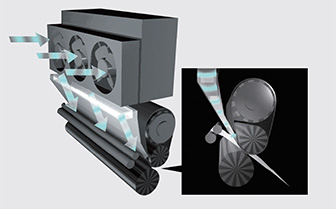 Stable Paper Conveyance
Air suction belt paper feed system [PF-707]
[PF-707] is a paper feeder unit that incorporates a suction function. The air-assist function blows air from the sides and front to separate sheets, which are then adsorbed onto the suction belt for conveyance. Optimised air control matched to the paper types eliminates paper damage and realises stable feeding, even of thick and coated sheets.
* Optional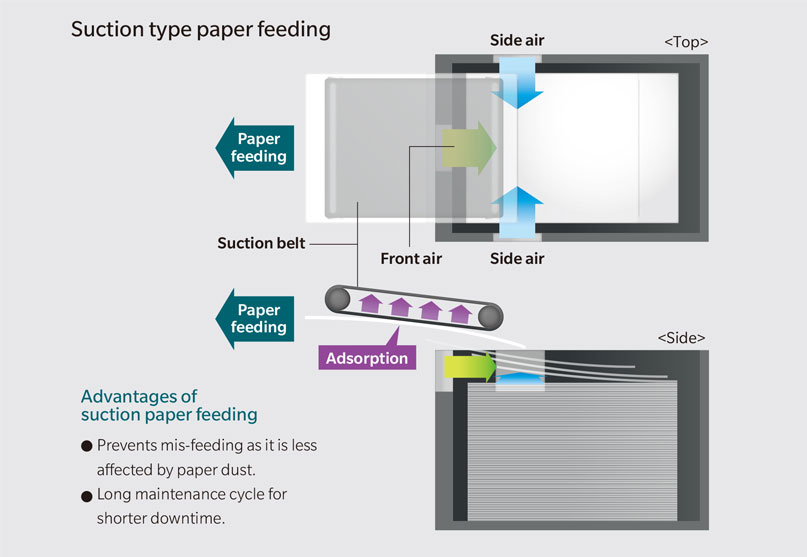 Furnished with curling correction and anti-static functions
Hybrid Decurler
A hybrid curling correction system can be configured combining Relay Unit [RU-509], which employs a standard mechanical decurler, with optional Humidifier Kit [HM-102]. Optimum paper curling correction can be realised by using the mechanical decurler for coated sheets and the humidifying curler for non-coated sheets. The degree of decurling can be adjusted manually and responds flexibly to changes in conditions.
*Optional
Mounted in RU-509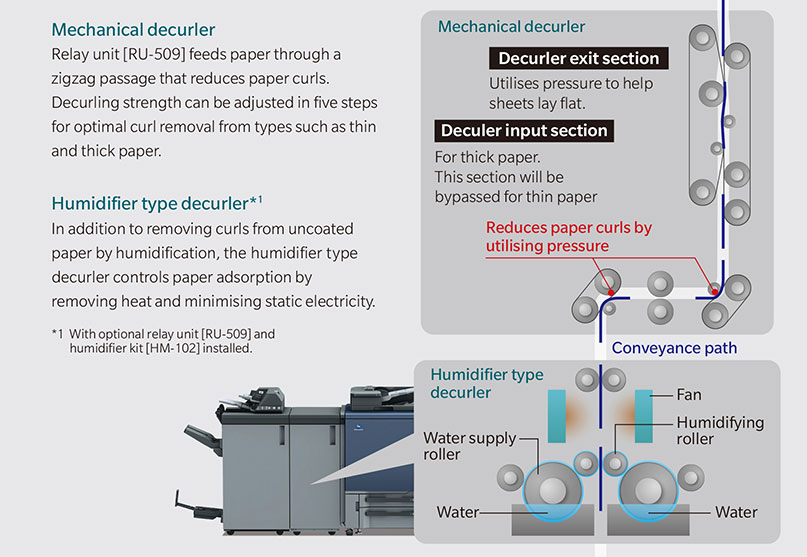 Productivity
Productivity to meet short turnaround
Production speed of 71 ppm
High productivity of 71 ppm*1 for both colour and monochrome printing (A4 landscape). Items such as A3 size booklets and small-size contents imposition data can also be output quickly at a speed of 38 ppm*1.
*1 For 62 to 176 gsm paper using C2070.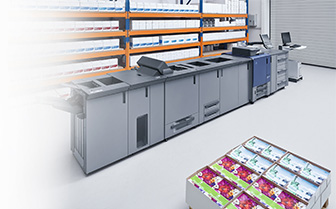 Ample Printing Support with High-capacity Paper Feeding
Max. 7,500-sheets paper feeding capacity
Mounting 2-level Paper Feeder Unit [PF-602m]*1 in addition to the main unit tray with a paper-feeding capacity of 1,500 sheets realises a maximum paper-feeding capacity of 7,500 sheets. As well the high-capacity paper-feeding capacity, the ability to replenish paper stock during operation keeps downtime to a minimum. Five paper-feeding options are available for selection to match the scale and applications.
*1 Optional
* Using 80 gsm paper for all units.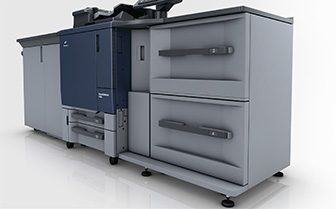 Realisation of High Registering Accuracy
Function for Correction of Skew and Image Rotation
Image rotation and skew correction values are input and front-to-back registration adjusted, enabling even greater ease of adjustment for items such as business cards, shop cards and tickets that require a high level of front-to-back registering accuracy.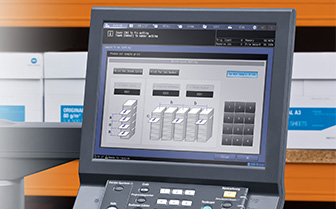 Enhanced Print Position Accuracy
High-accuracy Registration Mechanism
Registration swing mechanism capable of highly-accurate detection of paper misalignment and skew helps realise a professional and accurate finish of duplex printing, which is highly demanded in the following processes including trimming and bookbinding. The mechanism also automatically corrects paper-feeding misalignment in the main unit tray, contributing to improved quality in addition to higher productivity.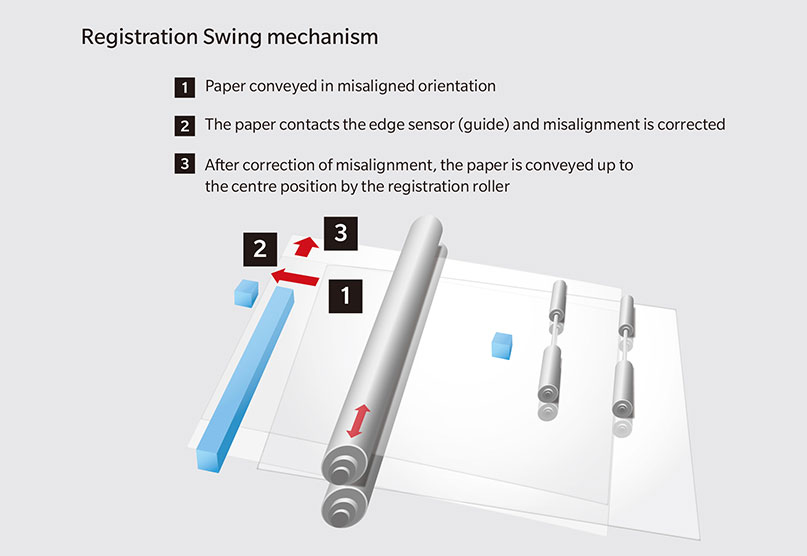 Adjustments can be performed in a short time without the need for any special skills.
Scanning function for front-to-back registration and Density balance correction
The front and back adjustment function uses a scanner*1 to automatically adjust the front and back positions. Elements such as front and back positions and magnification during duplex printing can be corrected with no need for measurements using a scale. The entire operation can be performed on the main unit panel and the results of correction can be saved, realising a major improvement in registration adjustment work. In addition, scanning of dedicated charts enables automatic correction of in-surface density unevenness, eliminating the need for density measurement and ensuring high quality print in less time.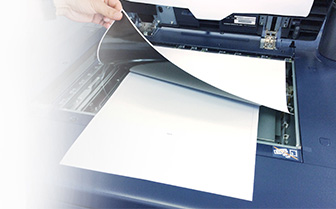 High-speed Scanning
High-speed auto-duplex scanner
Capable of simultaneous 1-pass reading of both sides, DF-706*1 delivers high-speed scanning of 240 opm*2 for both full colour and monochrome originals. With a maximum loading capacity of 300 sheets (64gsm), DF-706 realises speedy data creation. In addition, the scanner is equipped with a multi-feed detection function to enable efficient work with fewer errors.
* Optional
*1 Mountable in C2070/C2060.
*2 For A4, 300dpi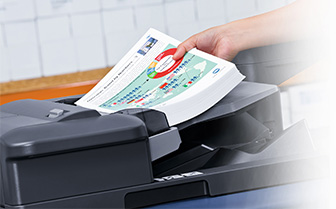 High Quality
Supporting the established high quality
Simitri HDE Toner
Simitri HDE, a newly developed toner that enhances both image quality and energy-saving at the same time is adopted. 3D hybrid structure that contains functional polymers ensures a high level of compatibility with all types of media and enables realisation of ideal natural textures. In addition, it requires only a small amount of heat for fusing, contributing significantly to reductions in power consumption.

Cutting-edge Image Processing Technology
S.E.A.D. Ⅴ
Konica Minolta's unique Image Processing Technology. High-quality image processing that takes full advantage of the engine characteristics is performed in close linkage with the image processing, formation and development system.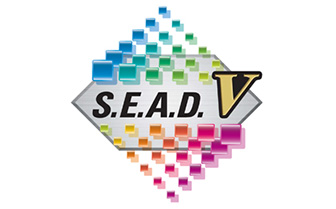 Precise Outline Processing
AccurioPress is furnished with a line-thinning processing function to improve phenomena such as thickening of characters and outline-character blurring, and with a contour enhancement processing function that improves raggedness of dot-background outline characters and characters in intermediate colours to realise top-class level character quality and legibility.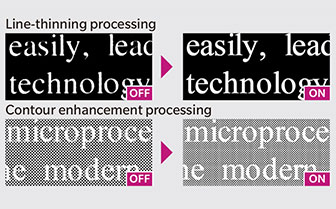 Flexible Screen Processing
Furnished with a total of 12 types of screen; 6 dot screens, 3 line screens and 3 FM screens available for use matched to applications and purpose such as proof output, photograph printing and moire suppression.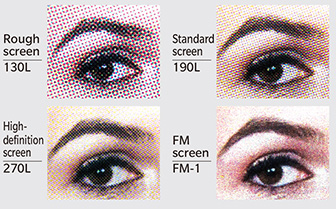 Even more Reliable Colour Reproducibility
Auto-calibration System
The output paper density adjustment function corrects gradation density to match output paper characteristics. Adjustments are performed using the paper actually used to enable accurate gradation adjustment that matches the paper characteristics. A mode that measures RGB as well as CMYK as target colours has been added to further enhance the accuracy.
*Optional
Mounted in RU-509

Reduced Image Deterioration maintains Image Quality
Auto-refining Developing System
A new carrier is supplied together with the toner to refresh the developer, stabilising the developer condition to maintain high image quality throughout the system lifetime. The longer developer life also minimises downtime.
* Optional Biometric Authentication Unit AU-102, Working Table WT-506 or WT-513 is required.

Improved Colour Reproduction Stability
Real-time Image Stabilisation Control
This function controls image stability in short intervals during continuous printing by detecting density correction patches and dot diameter correction patches created on the intermediate transfer belt with the IDC sensor, delivering stable high quality for a wide range of densities through 2 types of density calibration.
* Operates only when the image stability priority setting is enabled.

Print Controller
Featuring high Affinity with the Engine and even greater Ease of Use
Konica Minolta Image Controller [IC-603] * Optional
Job control/editing with the main body panel
Allows job management including job ticketing and pagination with intuitive operation. Tone curves can be also adjusted in a similar manner to that of Color Centro. In addition, connecting a USB mouse provides an operational environment similar to PC.

Color Centro (Colour Management Utility)
Exact Color that performs high-precision 3D calibration, realising a major improvement in colour adjustment capability over conventional 1D calibration. Work, editing, settings and other tasks relating to colours matched to the main body such as colour adjustments, colour profile creation and simulations can be performed.

Job Centro 2.0 ( Job Management Utility)
Enables job management with outstanding interface even with PCs. Elements such as indicators and thumbnail display have been incorporated into the screen configuration to realise enhanced operability and enable improved operating efficiency.
APPE 3.4
Adobe's APPE 3.4 (Adobe PDF Print Engine 3.4) directly processes PDF files without having to access a printer driver for an appropriate transparent effect.

AccurioPro HotFolder
AccurioPress is equipped with a hot-folder utility that further enhances work efficiency and is ideal for automatic processing of items such as documents that need to be printed regularly and documents that can only be handled by specific printing processing. The hot-folder utility contributes to manpower-saving for job registration work and to reduction of man-hours for the operation.

Seamless Offset Printing connectivity through JDF Compatibility
Compatible with JDF, a format for the display and transfer of jobs between printing processes. Interactive connectivity with major CTP workflow RIPs such as APOGEE, EQUIOS and Prinergy*1 makes it possible for the operator to use familiar CTP workflow RIPs without making changes, enabling the construction of a hybrid workflow with .seamless connectivity to offset printer. As a result, offset printing options are to include digital printing, enabling flexible handling.
*1 "APOGEE" is a CTP workflow RIP from Agfa-Gevaert N.V, "EQUIOS" from Dainippon Screen Mfg. Co., Ltd., "Prinergy" from eastman Kodak Company.

Standard multi-function controller
Fiery Print Server [IC-313 / IC – 417] * Optional
High-speed Processing and High Image Quality
Realisation of high-speed processing compatible with a print engine capable of 1200 dpi x 8-bit ripping and printing speed of 71ppm (A4 long edge feed)*1. In addition, a wide choice of colour profiles enables freedom of colour management.
*1 For C2070 (C2060: 61 ppm)

With APPE 3.0*
APPE 3.0 (Adobe PDF Print Engine 3.0) that supports transparent effect processing of PDF files as standard.
Colour Management
IC-313 performs colour management for each CMYK, RGB and spot colour space irrespective of the application or file format, making it ideal for colour management matched to purposes such as proofing and production of final deliverables.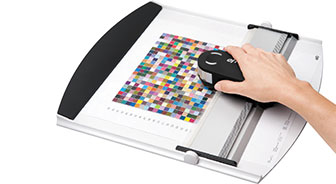 Command WorkStation
Efficiently manages jobs from a PC on the Job Center and Device Center screens.
Improved affinity with Creo RIP
Creo Controller [IC-314]
The external Creo® IC-314 print controller option features advanced colour profiling and destination profiles to spot colours, a complete Pantone GOE library, colour sets and colour print sets, an Easy VIPP file creator, advanced perfect binder support, and full integration with Kodak print systems.
* Optional
In-line Option
Creation of even more sophisticated Saddle-stitch Bookbinding
Saddle Stitcher [SD-513]
Saddle-stitch bookbinding featuring enhanced stapling quality and output stability. Expanded functions enable realisation of a highly-polished finish comparable to offset printing bookbinding. The booklet-shifting type stapling mechanism is capable of 4-point stapling and is also furnished with functions for tasks such as edge-cutting, multi-centre folding and multi-tri-folding.
* Optional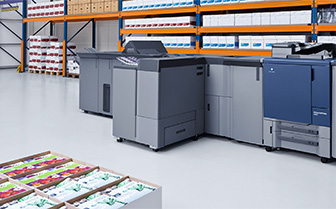 Capable of perfect binding with max.600 pages
Perfect Binder [PB-503]
Perfectly binds up to 300 sheets, 600 pages (80gsm) or paper up to 30 mm thick. Cardstock up to 216 gsm can be used for the cover to realise high-quality bookbinding through advanced paper alignment.
* Optional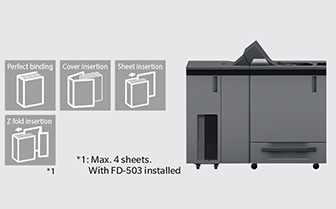 Space-economical All-in-one Finisher
All-in-one Finisher [FS-532]
The stapling finisher with staple cutter is capable of stapling up to 100 sheets*1. Three sub-options can be mounted to expand the system. In addition, the finisher can be connected directly to the main body without the need for relay unit [RU-509], thus keeping down the costs of introduction and providing the capability for multiple operations in a small space.
* Optional
*1 Stapling for up to 50 sheets for A3 paper.

Effective for Creating Items such as Manuals and Catalogues
Saddle Stitcher [SD-506]
Capable of saddle-stitch bookbinding of up to 50 sheets, 200 pages (80 gsm) and furnished with an edge-cutting function to realise a beautiful finish as well as multi-centre folding and multi-tri-folding functions.
* Optional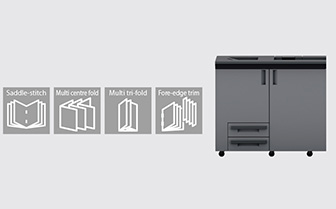 Also capable of Double parallel and Gate fold
Multi-Folding Unit [FD-503]
Furnished with features useful for producing DMs such as a wide variety of folding functions and 2 and 3-hole punching functions as well as a sheet-inserter function capable of 2 types of paper settings.
* Optional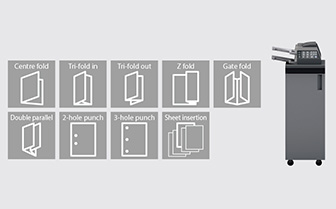 Stacker with Cart capable of Accommodating 5,000 sheets
Large Capacity Stacker [SD-506]
Up to two units can be installed side-by-side for a total ejection capacity of 10,000 sheets. Finished documents can be taken out with the cart as they are for ease of transport to the next process. A sample ejection function allows shifted output trolley stacker quality checks to be performed during large volume printing.
* Optional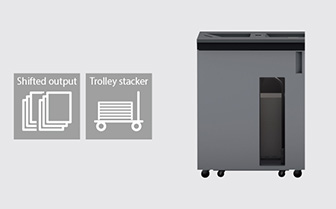 Capable of Saddle Stitching of SRA3 Paper
Stapling Finishers [FS-531/FS-612]
FS-531 is capable of side stitching of a maximum of 50 sheets (80 gsm) while, in addition to a side-stitching function, FS-612 is furnished with a saddle-stitching function and 2 types of folding function for a maximum paper size of SRA3. If necessary, the system can be expanded to include functions for tasks such as punching and cover sheet insertion.
* Optional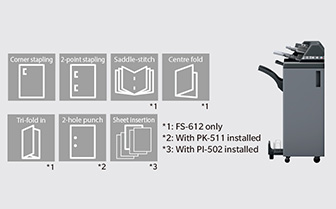 Large-capacity low-cost Ejection Tray
Large Capacity Output Tray [OT-510]
The ejection unit is capable of holding up to 4,200 sheets. The ample ejection capacity makes for improved efficiency of work processes in workfiows comprising mainly off-line after-processing.
* Optional