Download More Information

Product Brochure PDF (1.9MB)
Spec Sheet 4050 PDF (712 KB)
Click photo for a larger image
Strong service for mobile and Cloud environments
Also compatible with office wireless LAN environment
Use the NC-P03 wireless LAN option to connect to office wireless environments. This allows unrestricted installation in areas that do not have LAN wiring, and where it is difficult to install LAN cables. This product can also be used as an access point to create a wireless LAN environment.
* The optional Mount Kit MK-06 is required. If it is used as an access point, it cannot be used as a client.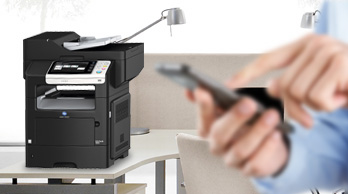 Compatible with bizhub Connector to use Cloud environment
These models are compatible with the bizhub Connector (option) application, for linkage with Cloud services. Use the control panel to directly access Cloud services. Upload scanned data with one operation, without ever using a PC, and print data from the Cloud, for better working efficiency.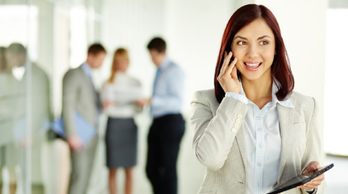 Mopria Print Service
Devices running Android 4.4 or later OS versions can output printing without going through a printer driver.
Google Cloud Print
iOS and Android devices and PCs can print via the Internet without going through a printer driver.
* Setup using Google Cloud Print Setup is required.
* The optional memory expansion and i-Option LK-101 v3 are required.

Konica Minolta Print Service
Standard Android print functions can print directly to bizhub.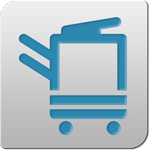 PageScope Mobile for bizhub to mobile device connectivity
Use PageScope Mobile for Android or PageScope Mobile for iPhone/iPad free of charge from Konica Minolta for smooth wireless connectivity with mobile devices such as smartphones and tablet devices. PDFs and image data*1 stored in a mobile device can be printed wirelessly from a bizhub MFP/printer, and scanned data from the bizhub MFP can be viewed from a mobile device.
*1 *1 Printable formats: PDF / TIFF / JPEG / XPS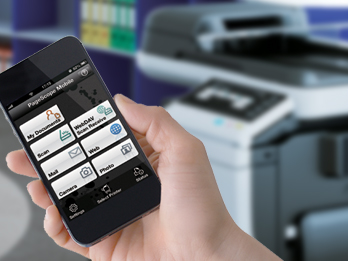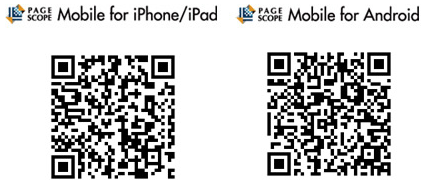 How to use QR code
Use with your mobile device.
Access and download easily without typing the website address.
The optimal choice for small and large offices
Ideal as a main machine for small offices
The bizhub 4050 can be used as highly functional, highly productive, space saving monochrome centre machines for small offices that mainly use A4, letter and legal paper.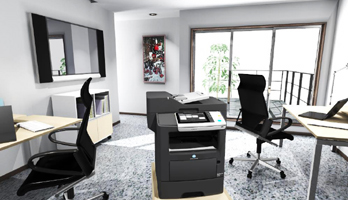 Superb networking for medium to large offices
For offices and medium to large workgroups that demand higher quality outputs and greater productivity, the bizhub 4050 can be used together with A3 MFPs as sub machines to streamline outputs.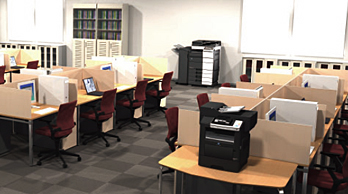 Increase productivity with an integrated device management solution
With PageScope Enterprise Suite 3.0, administrators can enhance efficiency by centrally managing the bizhub 4050 and all other networked digital devices including A3 MFPs.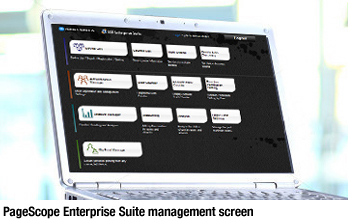 Intuitive large touch panel display
The bizhub 4050 deliver the similar user-friendly operability as the bizhub A3 MFPs thanks to the INFO-Palette design smart user interface. The 7-inch electrostatic colour touch panel display provides seamless and intuitive usability even for first-time users with smartphone-like tap & flick operation.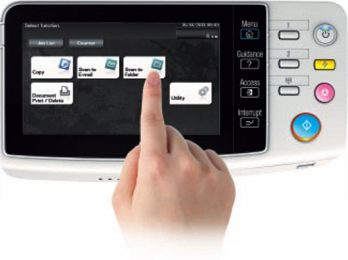 Browse on the control panel
The large 7-inch screen of the control panel can be used for Internet browsing.
* Optional i-Option LK-101 v3 is required.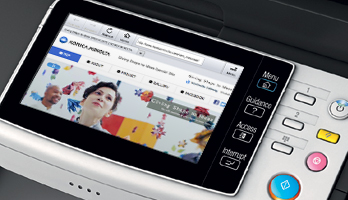 High performance, high productivity in a compact design.
High-speed, high-quality
Get high-speed outputs of 40 ppm (A4) with the bizhub 4050 at 600 × 600 dpi. In addition, 1,200 × 1,200 dpi high-resolution is also available for higher quality outputs. PCL6 emulation – often used for business – and PostScript3 emulation are also supported to provide an enhanced range of outputs.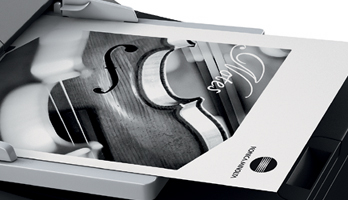 Colour scanner and RADF
A 30-opm colour (45-opm monochrome) high-speed colour scanner and RADF (Recirculating Automatic Document Feeder) are standard equipped for quick scanning of high volume business documents. In addition, colour faxes can easily be sent with the standard Internet Fax function in an Internet environment. The bizhub 4050 can even be used as a Super G3 fax machine with the optional Fax Kit.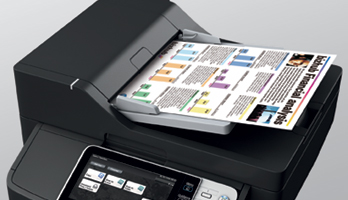 Stapling and high paper capacity
Boost productivity with the stapling function and extra paper cassettes within the same compact footprint. The optional compact stapler handles up to 20 sheets of paper and can be installed on the backside of the main unit. The standard 550-sheet paper capacity can be increased with a 100-sheet manual feeding tray and three optional 550- and/or 250-sheet paper feeding units. (maximum capacity 2300 sheets)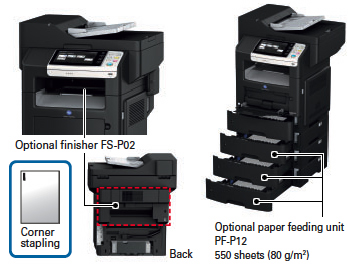 Outstanding expandability
Tighten security with IC card authentication
The bizhub 4050's authentication features enhance security and device management, crucial for medium to large workgroups. It even share the same IC card authentication system as the larger bizhub C754e series and C554e series A3 colour MFPs and new bizhub 4050 A4 colour MFPs for centralised security using IC cards such as employee ID cards across all networked bizhub MFPs.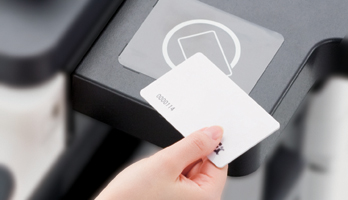 Direct USB printing
There's no need to bring large volumes of hard copy documents to branch offices. Files can be stored in a USB memory device and printed directly from the USB port on the front of the bizhub's control panel.
Expand functions with i-Option
i-Option expands the potential of the bizhub with extensions such as Barcode fonts, Unicode fonts, OCR fonts and ThinPrint function. The required extensions can be installed easily.
Optimal device placement for lower TCO and environmental performance
Konica Minolta's Optimised Print Services (OPS) promotes greater business efficiency through optimal device placement and reduced TCO. Optimally placing more eco-conscious devices also reduces power costs.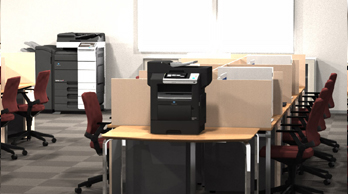 Cost-effective and earth-conscious in almost every way
Cost-effective A4 monochrome outputs
The bizhub 4050 deliver outstandingly low TCO by saving both initial costs and running costs.
Also compact for low environmental impact
The bizhub 4050 employ functions that help reduce toner and paper use during printing.
They are also certified by numerous environmental programmes and support environmental systems from around the world, including the International Energy Star standard, Germany's Blue Angel Mark, The Eco Declaration – Europe's declaration system for IT products.