Download More Information
Click photo for a larger image
Compact enough to be placed within arm's reach
Choice of MFP and printer models
Customers can choose between bizhub C3110 MFP model which combines printing, copying, scanning and faxing in a single unit, or the more compact bizhub C3100P printer model with printing function only.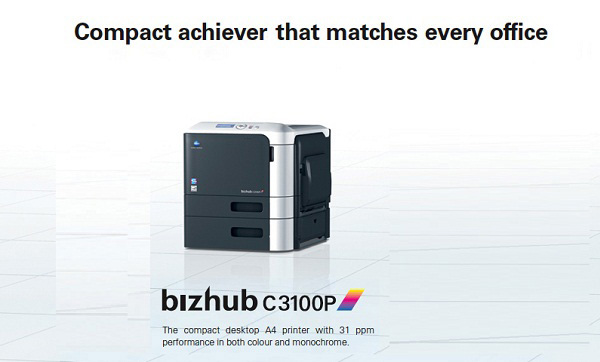 Compact body for easy placement just about anywhere
With a width of just 446.5mm and depth of 544 mm, the bizhub C3100P is small enough to be conveniently placed on a desktop.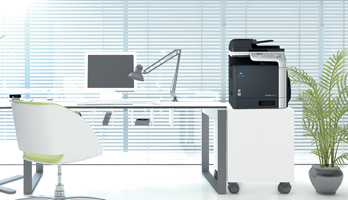 Class-above image quality and functionality despite their compact sizes
31 ppm (A4) high-speed outputs in colour and monochrome
The bizhub C3100P boost productivity with high-speed outputs of 31 ppm (A4) in both colour and monochrome .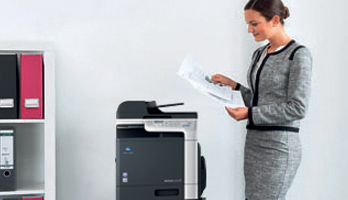 850-sheet paper capacity for fewer paper replenishments
Despite it's compact size, the bizhub C3100P offer a maximum 850-sheet paper capacity (with the 100-sheet manual bypass tray and optional 500-sheet paper cassette attached) to deliver outstanding performance with ample paper. Legal size paper* is also supported for larger size outputs.
* When feeding from the manual bypass tray or the optional paper cassette.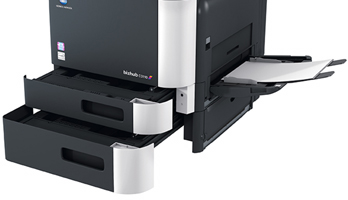 1,200 dpi high-resolution mode for beautiful reproductions of small text
The bizhub C3100P adopt 1,200 dpi high-resolution mode, providing outstanding reproductions of small text and very thin lines for producing outputs of highly elaborate diagrams and small print documents
* Output speed will be reduced.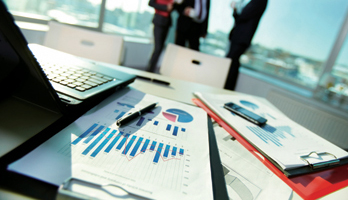 Mobile and cloud compatible PageScope Mobile*1
The bizhub C3100P is PageScope Mobile compatible, allowing direct printing from and saving scanned data*2 to Android devices and iPhones/iPads. In addition, PageScope Mobile offers smooth connectivity with cloud services for printing data saved in cloud or saving scanned data to cloud.
*1 Optional Hard Disk HD-P06 is required.
*2 Saving scanned data is available for bizhub C3110 only.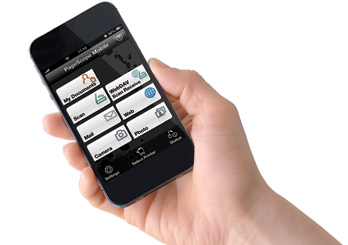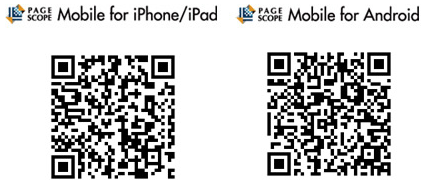 How to use QR code
Use with your mobile device.
Access and download easily without typing the website address.
Direct outputs of USB memory device data*1 for quick PC-less printing
Like the A3 bizhub MFPs, the bizhub C3100P is equipped with a port for USB memory devices, allowing data in USB memory devices to be printed directly from the main unit. Jobs in a hurry can be printed quickly and easily without having to access a PC.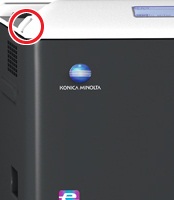 Outstanding environmental performance
Simitri HD toner with biomass for low environmental impact
The bizhub C3100P adopt Simitri HD toner which offers less environmental impact during its production and reduces power consumption with low temperature fusing. The toner is also carbon neutral as it is produced with plant-based biomass materials.

One-touch power saving keys for easy energy savings
The bizhub C3100P let you save power easily by switching to Sleep mode or ErP Auto Power Off mode with a push of a key on the control panel.
C3100P: Sleep mode: Short push of Power button
ErP Auto Power Off mode: Long push of Power button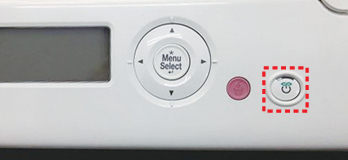 Recycled materials and recycled PC for main unit->*Watch the video
Environmentally conscious recycled PC is used in various locations of the main unit.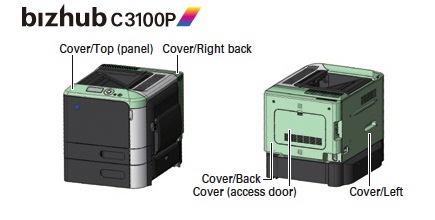 Excellent affinity with A3 devices and OPS compatible
Increased functionality with PageScope Enterprise Suite
The bizhub C3100P are compatible with PageScope Enterprise Suite (PSES)*1 which provides integrated management of all networked MFPs and printers from a single server. In addition to cooperative network management of the bizhub C3100P and A3 MFPs, PSES offers a variety of powerful functions including account management according to device, user and department, and increased security by authentication management*2 and privilege management. Furthermore, centralised device management, which reduces administrator burden, and Optimised Print Services*3, which proposes the optimal placement of office devices, allow you to use the devices efficiently while saving costs.

*1 Optional hard disk is required.
*2 Optional IC card authentication device is required.
*3 Optimised Print Services
Konica Minolta's consulting service that proposes the optimal placement of
devices to streamline the office document environment and further reduce
total cost of ownership (TCO).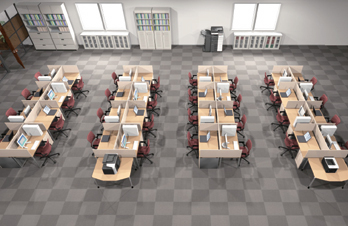 Konica Minolta's Emperon controller with advanced printing technology
Emperon printer controller developed with Konica Minolta's proprietary technologies provides a high-speed, high-quality and highly functional printing environment. High quality outputs are realised with page description languages such as PCL, PostScript and XPS, and high-speed processing of file formats such as JPEG, PDF and OOXML. In addition to regular printer interface and network printing, direct printing from USB memory devices* is also supported for smoother output operations.
* Optional Hard Disk HD-P06 is required.
Supported formats: PDF (up to 1.7), CPDF, JPEG, TIFF, XPS, CXPS, pptx, xlsx, docx, OpenXPS, PPML/GA2.2, PPML VDX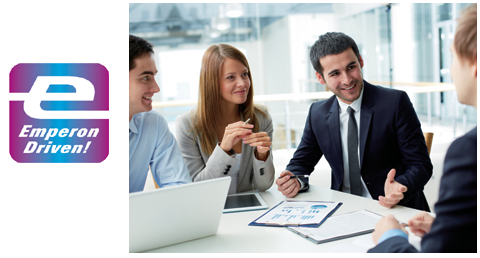 Main unit authentication and IC card authentication
In addition to main unit authentication, various IC card authentication devices* are supported including Konica Minolta's AU-201*. Connecting PageScope Authentication Manager* allows integrated user management in mixed environments with A3 bizhub devices.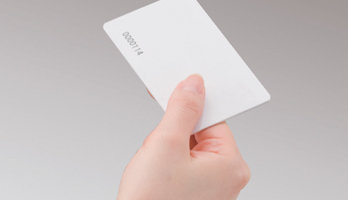 Scheduled to obtain ISO/IEC 15408 certification, ISO's Common Criteria for IT security
Installing the optional hard disk will make the bizhub C3100P compatible with ISO/IEC 15408 certification. (Scheduled to obtain certification in October 2014.)