SmartTouch Panel
Fast and efficient new control panel.
Try it now
Click photo for a larger image
Strong service for mobile and Cloud environments
Also compatible with office wireless LAN environment
Use the NC-P03 wireless LAN option to connect to office wireless environments. This allows unrestricted installation in areas that do not have LAN wiring, and where it is difficult to install LAN cables. This product can also be used as an access point to create a wireless LAN environment.
* The optional Mount Kit MK-06 is required. If it is used as an access point, it cannot be used as a client.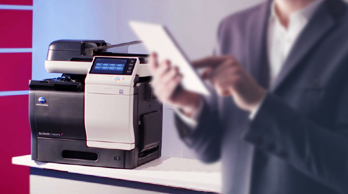 Compatible with bizhub Connector to use Cloud environment
These models are compatible with the bizhub Connector (option) application, for linkage with Cloud services. Use the control panel to directly access Cloud services. Upload scanned data with one operation, without ever using a PC, and print data from the Cloud, for better working efficiency.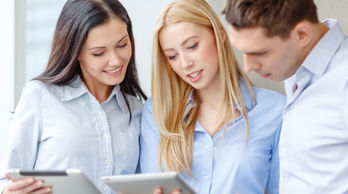 AirPrint
Mac OS and iOS devices can perform wireless printing without installing printer driver
->Details More

Mopria Print Service
Devices running Android 4.4 or later OS versions can output printing without going through a printer driver.
->Details More
Google Cloud Print
iOS and Android devices and PCs can print via the Internet without going through a printer driver.
* Setup using Google Cloud Print Setup is required.
* The optional memory expansion and i-Option LK-101 v3 are required.

Konica Minolta Print Service
Standard Android print functions can print directly to bizhub.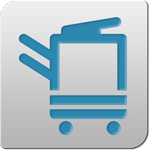 PageScope Mobile
In keeping with the new freer work style of the bizhub C3350, PageScope Mobile speeds up document workflow by enabling direct printing from and scanning to Cloud services from portable devices such as smartphones and tablets, as well as from PCs.
Compatible with print and scan apps on iOS and Android devices. Use the Android version to print and scan just by touching the NFC tag*.
* The Android device must equip an NFC antenna. First, the NFC Tag Writer must be used to write device information to the NFC tag. The NFC tag is sold separately. Consult your distributor for details.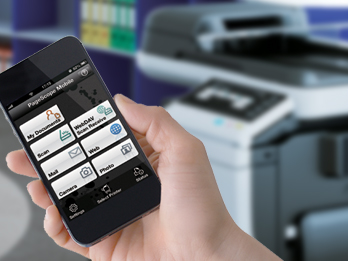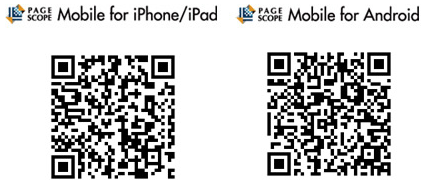 How to use QR Code
Use with your mobile device.
Access and download easily without typing the website address.
Advanced user-friendly functionalities
Revolutionise your office with advanced A4 colour functionality
More than just being compact enough to be placed within easy reach, the state-of-the-art bizhub C3350 MFP come with a multitude of superior functions and features of the higher end A3 bizhub MFPs, improving any office environment. It is designed to meet a variety of customer needs by offering both greater affinity with the latest A3 bizhub models and a seamless consistent user experience from any device.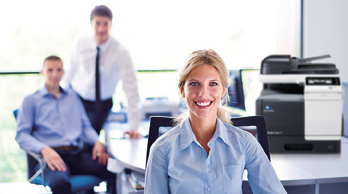 New Multitouch UI is easy for anyone to use
The faster on – board processor and increased memory mean quicker processing of multiple print jobs.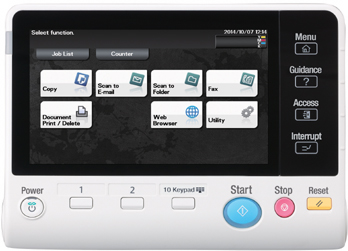 Design Concept
Unparalleled freedom to choose your own work style from any location for any situation.
Enhanced user authentication / security settings
Enjoy strong security against unauthorised use of the bizhub C3350. Thanks to the standard server-less main unit authentication. Beyond being ideal for small offices, security settings can be upgraded with the optional IC card authentication, eliminating the need for manual password inputs.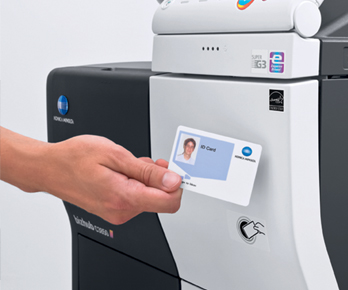 Equipped with an internal finisher and yet keeping its compactness
bizhub C3850FS offers internal stapler finisher as standard. Not only to deliver high productivity but also maintain the compact body.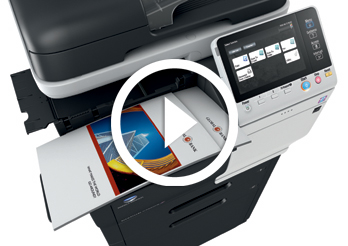 Adjustable control panel angle
The control panel is simple to adjust to the right position for easy visibility and operation, making touch operations more comfortable.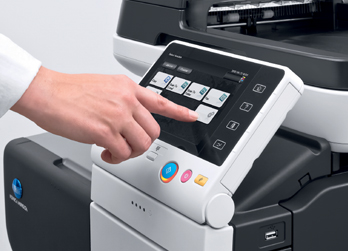 Max. 1,650-sheet paper capacity
Increase the standard paper capacity of 550 sheets to a maximum of 1,650 by adding up to two optional 500-sheet paper feed units, and boost office productivity even further by installing an optional offline stapler.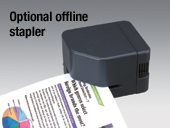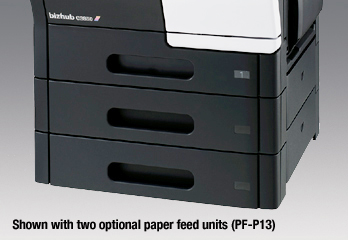 High resolution output presents fine text and thin lines clearly
Print output is available at up to 1,200dpi, to reproduce intricate details beautifully in photos and diagrams.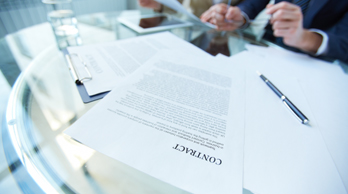 Direct outputs of USB memory device data for quick PC-less printing
Like the A3 bizhub MFPs, the bizhub C3350 is equipped with a port for USB memory devices, allowing data in USB memory devices to be printed directly from the main unit. Jobs in a hurry can be printed quickly and easily without having to access a PC.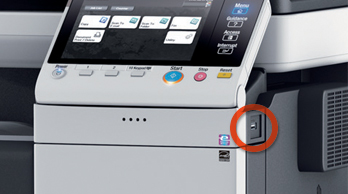 Enhanced communality of A3 and A4 MFPs to bring more efficient workflow
Increase productivity with an integrated device management solution
The bizhub C3350 is compatible with the optional PageScope Enterprise Suite (PSES) that features four applications* (three of which require a fee) to help reduce administrator burden through centralised device management and batch settings. In addition, they employ OpenAPI, Konica Minolta's unique Application Programming Interface, which supports various third-party applications.


* The Net Care Device Manager app is free of charge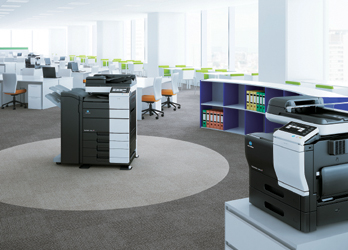 Scanning capabilities create a paper-less environment
The bizhub C3350 support a variety of output formats that convert hard copies into digital files such as Compact PDF, reducing paper use and making information sharing effortless.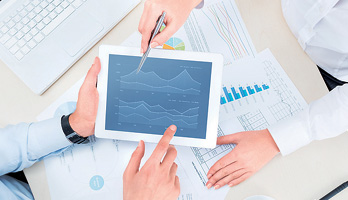 Excellent eco performance and advanced eco design
Use the power key to switch easily into Eco mode
A simple operation, with a long or short press on the power key of the control panel, switches the unit into Eco mode, promoting energy-saving in the office.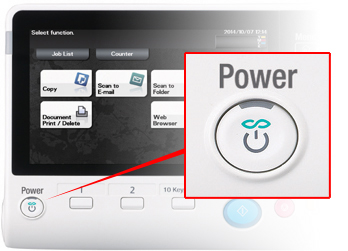 Recycled materials for reduced environmental impact
Konica Minolta makes effective use of recycled materials such as PC/PET, developed in-house using advanced chemical processing technologies, for the outer surfaces and bioplastic for the panel buttons, etc. to further reduce environmental impact.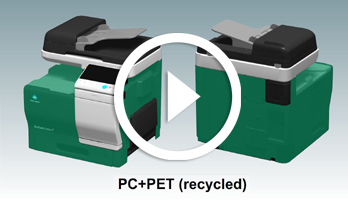 Toner saving and Blank Page Removal function save resources
These models are equipped with a toner-saving function to output printing with less toner than usual, and the blank page removal function that automatically deletes blank pages from output. These functions reduce costs and environmental impact by suppressing the usage of toner and paper.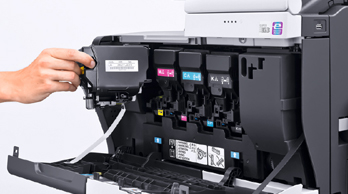 Power consumption during sleep is cut to a class-leading 1.2W
At 1.2W, power consumption during sleep reaches the best level in this product class. It is approximately 93% lower than the previous model (bizhub C35). This helps to cut the TCO of the office, and reduces environmental impact.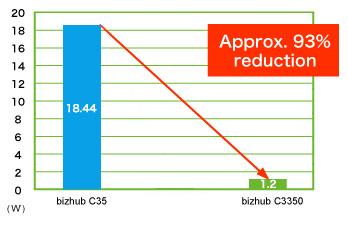 TEC values pass the standard value for the Energy Star Program
The TEC value of the bizhub C3350 is 2.6kWh. This machines clear the standard value for the International Energy Start Program Ver2.0. They also achieve at least 58% of the reduction compare with the previous model (bizhub C35). Reducing the TEC value also helps to cut TCO.
* Typical Electricity Consumption: This is a guideline, stipulated by the International Energy Star Program, for the energy consumed in one week.