Product Highlights
Output Size: SRA3
Output Type: Colour
Recommended User
CRDs

(Centralised Reprographic Departments),


Government offices
Education facility printing departments Quick printers Print-for-pay
Copy Speed
(A4/Letter Crosswise)
Download More Information






Flexibility
Expand your order-receipt range in leaps and bounds
350gsm Thick Paper Compatibility
Capable of 350gsm thick paper duplex printing to expand printing service variations to include applications such as packages and sales promotion materials. Not only that, but AccurioPress is capable of feeding from 62gsm for thin paper and 81gsm for coated paper.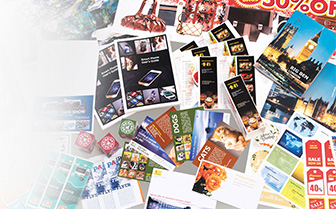 Top-of-the Class Banner print Compatibility
Banner Printing
Use of Multi-bypass Unit [MB-506] and Banner Printing Kit [MK-740] enables 1,200mm Banner printing to support a wide range of applications including A4 landscape book covers, double-parallel fold catalogues, banner ads and POPs.
* Optional
High-volume 750mm Banner Sheet Feed
Large Capacity Unit [LU-202XL] is capable of feeding a maximum of 1,000 sheets of 750mm long paper to realise ease of high-volume printing of items such as book covers, tri-fold catalogues and pamphlets.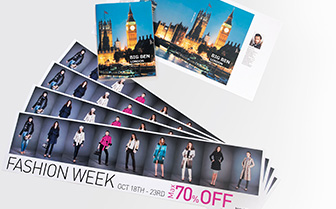 Powerful productivity for high-demand envelope printing
Envelope printing
Mounting Envelope Printing Guide Option [MK-746] in addition to Air-suction 3-level Paper Feeder Unit [PF-707] and Multi-bypass Unit [MB-506] enables printing of envelopes sent from Large Capacity Units [LU-202XL/LU-202m].
* Optional
High-speed, High-quality Envelope Printing
Use of the dedicated Envelope Printing Fuser [EF-103] suppresses creasing even at high speed to realise consistent envelope printing quality.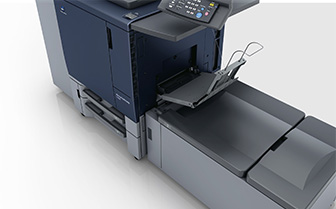 Full Range of Paper Profiles and Search Function
Paper Catalogue Function
AccurioPress is furnished with paper profiles recommended by Konica Minolta matched to user environment. Settings matched to paper can be selected as default values. In addition, the system features an improved search function for items such as required paper settings and registered settings, simplifying paper settings to enhance production ratios and enabling printing with optimum conditions matched to each paper type.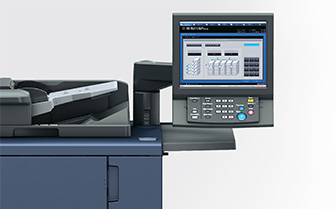 Optimum Use of Paper
A3 full-bleed printing
AccurioPress is compatible with a maximum paper size of 330 x 487mm and a maximum printing area of 323 x 480mm. As well, of course, as full-bleed A3 size printing with registration marks, the system is also capable of duplex A4 printing with registration marks.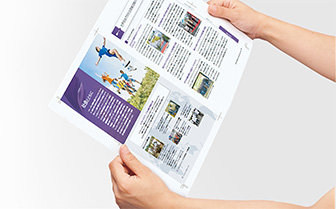 Improved Thin-paper Feeding Capability by enhanced Air Power
Air blow fusing separation mechanism
Air is blown to the area around the fusing nip to prevent the paper from sticking around the roller. This also increases conveyance performance, greatly enhancing separation performance for thin sheets of paper. Air volume can be set automatically or manually according to paper type.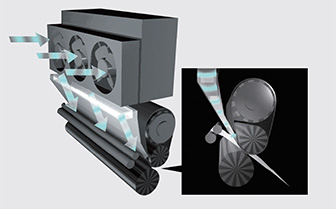 Stable Paper Conveyance
Air suction belt paper feed system [PF-707]
[PF-707] is a paper feeder unit that incorporates a suction function. The air-assist function blows air from the sides and front to separate sheets, which are then adsorbed onto the suction belt for conveyance. Optimised air control matched to the paper types eliminates paper damage and realises stable feeding, even of thick and coated sheets.
* Optional