A smarter work style
User interface designed with the user in mind
The bizhub 554e series adopts the INFO-Palette design smart user interface, providing the same user experience through seamless operation even from PCs, tablets and smartphones. The user interface further enhances ease of use with intuitive mobile device-like tap, flick & pinch operation.
Customisable user-friendly control panel
The bizhub 554e series control panel's shortcut and function keys can be customised to limit the use of functions and simplify operations. Up to 23 shortcut keys can be set in the main menu for quick and easy access to frequently used functions. Function key displays in each mode can also be changed according to department or user.
Soft numeric keypad for a smarter look and smarter operation
The "soft numeric keypad" lets users call the keypad on the screen only when required. Numbers can be entered with smooth touch operation.
Powerful document solutions
Digitise hardcopies for more effective use of documents
The bizhub 554e series is standard equipped with a high performance colour scanner. Paper documents can be scanned and converted to various PDF files or frequently used Office OpenXML format files for a wider range of uses. In addition, OCR processing converts hardcopy text into files with digitised text.

Leverage cloud services with bizhub Connector
bizhub Connector apps*1 can be registered to the main unit to access cloud services*2 and SharePoint 2007/2010 corporate servers directly from the control panel.

*1 Optional Upgrade Kit UK-204 and i-Option LK-101 v3 are required.
*2 Google Drive, Gmail, Evernote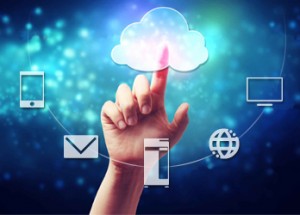 PageScope Mobile for intuitive mobile device operation
Print documents and images directly from and receive scanned data with mobile devices such as smartphones or tablets with the PageScope Mobile for iPhone/iPad and for Android apps (free-of-charge). Cloud services
*3
can also be accessed for sharing information and for a wider range of other uses.
*3 Usable cloud services as of 1 September 2013 are as follows:
Google Drive, DropBox and Evernote.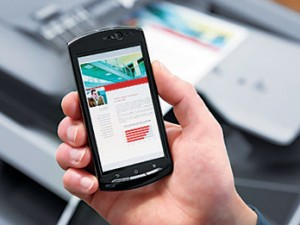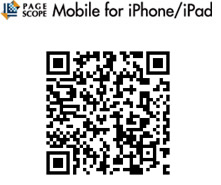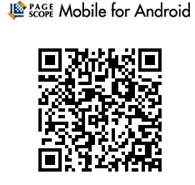 Max. 160 opm high-speed colour scanning
The bizhub 554e and 454e are standard equipped with an ADF that delivers high-speed colour scanning of 80 opm for simplex and 160 opm for duplex scanning. This ADF is also optionally available for the bizhub 364e/284e/224e.
Choose your finish and set-up
Optional Finishers FS-534 and FS-535*4 provide a maximum capacity for 3,000 A4 sheets. The compact Inner Finisher FS-533 is designed to boost productivity without additional footprint, and can be equipped with a hole punch kit. The main unit can also be installed in a variety of spaces including on desktops or on the floor when combined with the paper feed cabinets.
*4 Available only for bizhub 554e.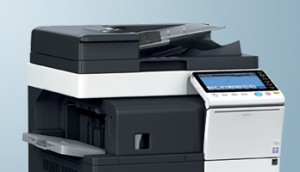 Flexibility to match every office environment
Prevent information leaks with flexible user authentication
Protect valuable information without sacrificing convenience with a variety of authentication systems including the server-free MFP authentication, IC card authentication using employee IDs and the sure-safe biometric finger vein authentication.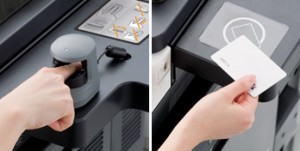 ISO 15408 EAL3 (IEEE 2600.1 Compliant)*5
The bizhub 554e series achieves an unparalleled level of security by complying with IEEE 2600.1 international standard for MFP and printer information security.
*5 Under evaluation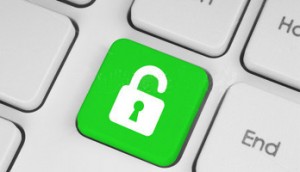 Optimal device placement for better TCO and environmental performance
Konica Minolta's Optimised Print Services (OPS) promotes greater business efficiency through optimal device placement and reduced TCO. Optimally placing more eco-conscious devices also reduces power costs.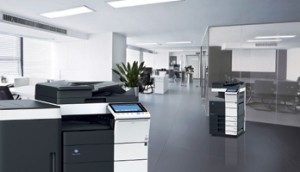 Cost-effective and earth-conscious in almost every way
Low power consumption even during use
The bizhub 554e series easily clears the new Energy Star standard TEC values. The thoroughly energy-saving design also reduces TCO.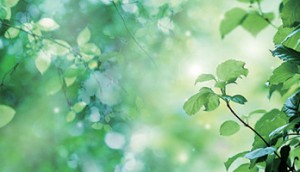 1-watt power consumption in Sleep mode
To help reduce environmental impact and TCO even further, the CPU is switched off during Sleep mode resulting in power consumption of a mere 1 watt.
Made from more environmentally considerate materials
The bizhub 554e series promotes corporate environmental conservation activities with a low environmental impact design. Recycled materials*6 are effectively employed for approximately 50 percent of the main unit's surface area, including recycled PC/PET and recycled PC/ABS in 21 locations and biomass plastic.
*6 Includes a mixture of PCR (Post Consumer Recycled) materials recovered and recycled from consumers.