Product Overview
Condensing all the required functions in a compact body.
Our pursuit to "Optimise" from various angles.
The bizhub C25 was developed by researching and investigating the use of office MFPs in its class. The end result focuses on printing functions with the same high functionality and operability of higher-end devices, and an exceptionally fast copy out time for the first sheet of paper. These essences are condensed in a compact body that allows easy placement in small spaces. For large offices, the bizhub C25's integration with A3 MFPs realises the optimal placement of input and output devices.
Optimised Office Solution 1

Easy placement in hard-to-install spaces with a space-saving compact body

Optimised Office Solution 2
Enhance business productivity with high image quality andhigh-speed outputs
Optimised Office Solution 3

Share knowledge efficiently within the office with generousscanning functions

Optimised Office Solution 4
Operability that's quickly ready when required with a superioFirst Copy Out Time
Optimised Office Solution 5
Strengthen management through environmental complianceand reduced operation costs
The compact MFP that optimises your office environment
To realise a highly productive office, the required number of devices with the required functions must be optimally placed in their required locations. Konica Minolta bizhub C25 compact colour MFP allows you to optimise the placement of office input and output devices through integration with A3 MFPs, to greatly increase business efficiency while reducing TCO.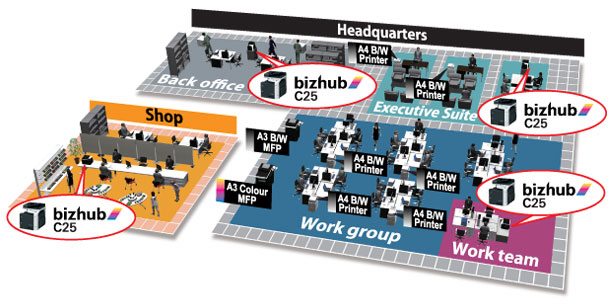 Features
Easy placement in hard-to-install spaces with a space-saving compact body
Easy placement and accessibility for any office and user
Enhance business productivity with high image quality and high-speed outputs
Optimised productivity
Enhanced printing efficiency and convenience
Share knowledge efficiently within the office with generous scanning functions
Reduce paper usage with digitised data
Operability that's quickly ready when required with a superior First Copy Out Time
Quick operability to streamline business efficiency
Higher paper compatibility for expanded printing possibilities
Strengthen management through environmental compliance and reduced operation costs