Achieve offset-like results that meet expectations. Gain the competitive edge with high-qualityand high-accuracy finishes which exceed competitive light-production printers.
The thorough pursuit for offset quality
High resolution technology for beautiful reproductions
1,200 dpi x 8-bit high quality & precision
Reproduce minute text and thin lines clearly as well as rich colour gradations even for colour images through synergy with 1,200 × 1,200 dpi high-resolution printing and Simitri HDE toner.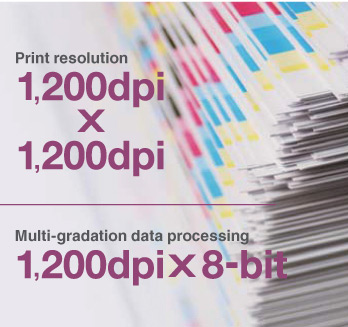 256-step 8-bit processing controller and engine
Eight-bit multi-gradation data processing flow for each colour displays 256-step gradations within a single pixel. Both colour and monochrome data can be processed in 1200 dpi x 8-bit resolution.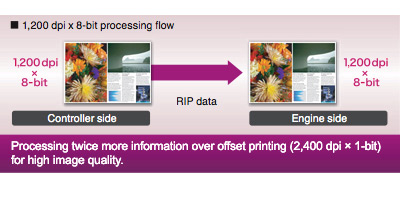 Optimise print quality according to the output material
New FM screen processing
FM (Frequency Modulation) screen processing fully leverages the C1070 series' 1,200 dpi resolution. Improved 1,200 dpi FM screens with enhanced resolution and granularity eliminate jaggedness and moiré for smoother reproductions. In addition, the optimal screen processing can also be selected to match the quality required for the output based on the dots and lines.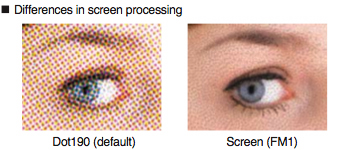 Outline processing for clearer textsl
Precise outline processing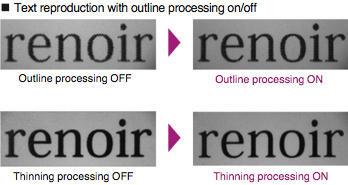 High precision outline processing practically eliminates blurs and raggedness of lines, normally associated with digital printing, to reproduce text details in higher definition. Quality is even improved for outputs that combine coloured text with thin lines and sharp outlines.
High stability Take duplex printing, folding, and trimming to the next level
Enhance print position accuracy
Higher print position accuracy
The newly developed registration swing mechanism is standard-equipped with a centring detection sensor on the registration portion of the engine to provide high-precision centring correction.High resolution technology for beautiful reproductions

Consistent and stable outputs from the first print to the last
Further improved colour reproduction stability
Real-time colour calibration
This function controls image stability in short intervals during continuous printing by detecting density correction patches on the intermediate transfer belt and dot diameter correction patches with the IDC sensor, providing stable high quality outputs for a wide range of densities. range of densities. (Operates only when the Stabilization Adj Operation Setting is set at "Stability")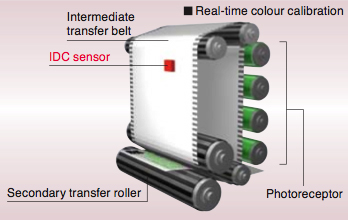 Adopted for all four colours, auto-refining developing delivers stabilised high quality even for full colour images. New carrier along with the toner is regularly supplied to refresh the developer, stabilising the developer condition to maintain high quality outputs over the long term. Its longer life also helps to minimise downtime.

Further improved colour reproduction stability
Enhanced colour density adjustment function with Relay Unit RU-509
Correct the gradation density to match the characteristics of the output paper. Auto calibration offers up to 15 correction values according to paper or screen type. In addition, a mode that measures RGB as well as CMYK for the target colour further enhances accuracy.
* Optional. Equipped in RU-509