Green Factory Certification System
In fiscal 2009, Konica Minolta started activities under its own Green Factory Certification System in an effort to support the achievement of targets outlined in its Medium-Term Environmental Plan 2015.
Konica Minolta strives to evaluate comprehensively the environmental friendliness of its production sites, and will certify each site that meets definite standards as a Green Factory.
Comprehensively Evaluating Environmental Friendliness of Production Sites
Previously, Konica Minolta operated a production site certification system with two levels of attainment criteria for reducing waste, focusing on the objective of supporting a recycling-oriented society. Each factory attaining those criteria can be certified as a Zero Waste Factory. In fiscal 2009, all Group production sites worldwide have achieved level 2.
Expanding upon this system, the new Green Factory Certification System aims to ensure that factories are comprehensively environmentally friendly. The new system sets stricter standards* in the area of supporting a recycling-oriented society and establishes unified group-wide criteria for preventing global warming and reducing the risk of chemical substances.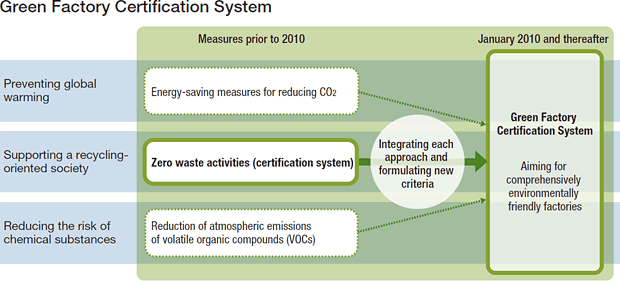 Progress Measured with Two levels of Criteria at All Production Sites
The Green Factory Certification System has two sets of criteria for all production sites to achieve: one is "level 2" to be achieved by 2015, and the other is "level 1," to be achieved by 2011 to ensure steady progress toward the 2015 goal.
In this system, not only progress against targets but also the implementation process is evaluated. In order to achieve clarity in the evaluation, guidelines have been prepared and a way created to quantify implementation conditions with a score. The guidelines bring together all of Konica Minolta's know-how in environmental measures,
and are comprised of approximately 250 implementation items as well as the evaluation standards for each item. The Group uses the guidelines to improve the quality of its activities.
Since January 2010, 24 production sites* worldwide have formulated action plans and started conducting activities based on the plans.
*Targets are established at each business unit. Even if the location is different, the production site is treated as a single site when it belongs to the same business unit.

*1 Per unit of production: Environmental impact in terms of production output or production volume. Each business unit selects the measure that enables its productivity versus CO2 emissions to be evaluated appropriately.
*2 Waste discharged externally: Volume discharged outside Konica Minolta sites, obtained by subtracting the internally recycled and reduced volumes from the total waste generated in production processes.
*3 Volume of petroleum-based resources waste: Volume of petroleum-based out of total volume of waste discharged externally.
*4 The guidelines have a 4- point evaluation benchmark ranging from 0 to 3 points for each implemented item and a standard score which serves as the performance target. The achievement rate refers to the percentage of items that meet the standard score relative to all items.
*5 The base year is fiscal 2005. However, in the event that there is a significant change to production items or production conditions due to business reorganization, the base year may be revised according to the Group's internal regulation.
*6 Based on this numerical value, standards tailored to factory characteristics are established.