Print Expo 2023: Konica Minolta showcases game-changing print solutions
India, 11 August,2023: Konica Minolta made a successful product exhibition at the Print Expo 2023, held in Chennai recently. At the show, the company showcased its entry-level LPP to HPP models, including C4065, C4080, C7100, and C12000, along with a mono engine 6120. The company also focused on gaining momentum through its label printer AL230 and AS3600 with iFoil One for the print enhancement.
At the heart of Konica Minolta's exhibition were the innovative production print engines, industrial print engines and office multi-functional range, presenting an impressive lineup of products that cater to the specific needs of corporates, production, and packaging companies.
Among the machines showcased, the AccurioPress C12000 boasts durable performance with up to 450-g/m² in simplex and duplex printing. Its high productivity allows printing at up to 120 A4 ppm (C12000), and its ready-made print products offer automated inline business card printing, full bleed, and much more. With an image quality of 3,600×2,400-dpi resolution, this powerhouse truly stands out.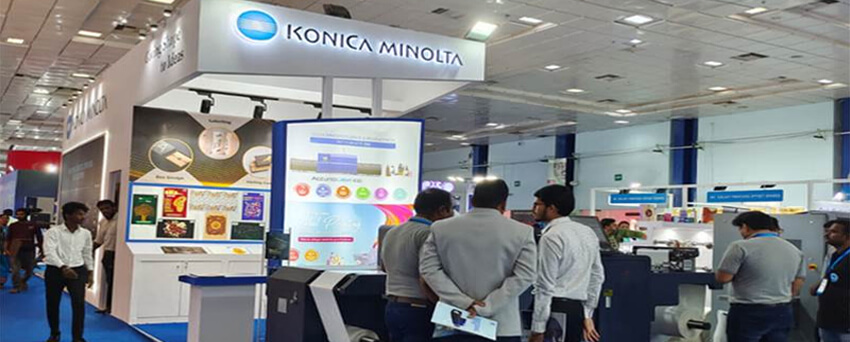 Meanwhile, the AccurioShine 3600 + iFoilOne highlight the pinnacle of industrial print technology using inkjet technology to create eye-catching effects on the documents and add value by creating 2D, 3D UV effects including inline foil.
On the other hand, AccurioLabel 230 is a digital label printing system that offers enhanced productivity, job flexibility, operability, and excellent image quality at an affordable cost. With a selection of per-minute speeds of 23.4-, 18.9-, 13.5- and 9.45-m, a resolution of 1,200-dpix8-bit with 256 gradations expressed in 1 pixel, and the Simitri HD E toner technology that incorporates functional polymers, it is perfectly suited for businesses who want to integrate digital printing with their analogue systems.
Katsuhisa Asari, managing director at Konica Minolta Business Solutions India, said, "We are thrilled with the overwhelmingly positive response received during Print Expo 2023. Our showcased products, across all three segments of production, industrial and office print portfolio, garnered significant interest and appreciation from key industry stakeholders. We believe our innovative solutions are perfectly aligned with the demands of today's rapidly evolving printing and packaging landscape.
He added that by participating in Print Expo 2023, Konica Minolta has reaffirmed its commitment to deliver state-of-the-art print solutions that empower businesses, enhance productivity, and drive success across various industries.
The Print Expo 2023, one of South India's foremost trade events, provided a dynamic platform for Konica Minolta to connect with a diverse range of industries that depend on printing and packaging solutions. With the market witnessing a growing demand for cost-effective, creative, qualitative, and sustainable solutions, Konica Minolta's participation in this event proved to be a strategic move to address these evolving needs effectively.