Konica Minolta woos visitors at Print Expo 2017
Konica Minolta, the leader in advanced imaging and networking technologies, showcased its comprehensive line up of printing solutions at Print Expo 2017 held at Chennai recently.The company showcased its KIP range, MGI line-up, web2print solutions and Accurio Pro series during the exhibition. According to the company, the response has been overwhelming, including several bookings from the recently showcased wide-format printing solution, KIP 7170.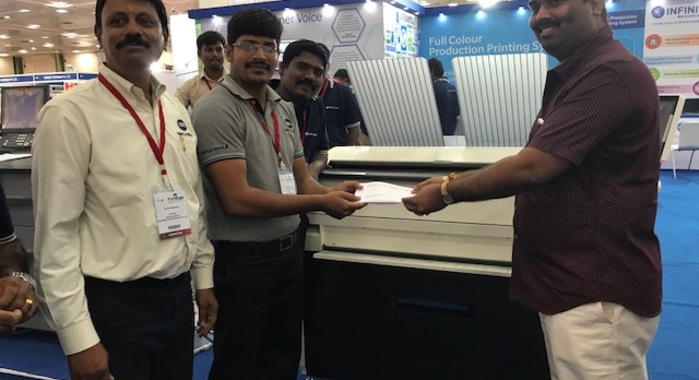 Team Dina Digital Prints with Team Konica Minolta during the show
Among these, Chennai-based Dina Digital Prints purchased the company's first KIP engine during the show.
"Our printing solutions are specifically tailored for mid-range businesses which are witnessing a rapid demand of scalability. With our proprietary technologies such as the Simitri HDE toner and SEAD IV image processing, we have ushered a new era in the printing segment," Yoshinori Koide, marketing head, PP business unit, Konica Minolta Business Solutions India, said.
The company also showcased several other high-potential digital presses like Bizhub Press C1100/ C1085 and Bizhub PRO 1100.
Kuldeep Malhotra, vice-president (sales planning & communication), Konica Minolta India, said, "We at Konica Minolta are committed to maintain our leadership position in the digital professional printing division. We are glad to be a part of Print Expo 2017 which comes as a strategic platform for us to showcase our cutting edge solutions embedded with trend setting technologies which are helping printing businesses garner high quality outputs in stringent deadlines."