Wireless LAN*1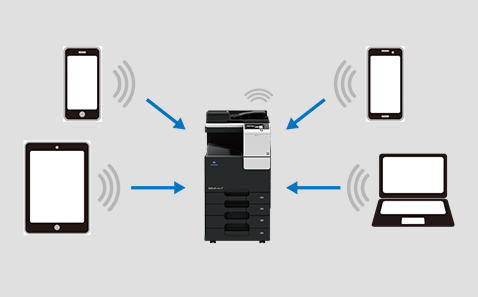 Wi-Fi Direct allows computers and mobile devices in your office to wirelessly connect with bizhub C226. This creates a fully independent network that supports BYOD (bring your own device) without additional investment. If your office already uses a wireless corporate LAN, bizhub C226 can easily connect with it to offer advantages to everyone in the office.
*1 Optional Upgrade kit UK-215 is required. Local interface kit EK-608 or EK-609 is also required.
Connect with Android devices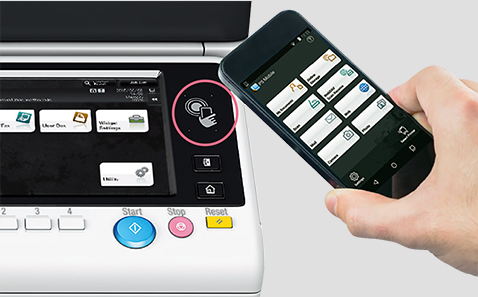 The bizhub C226 has a Mobile Touch Area on the operation panel with embedded NFC(Near Field Communication) technology. NFC ensures smooth, quick connections through which you can pair Android mobile devices* 2 with bizhub C226 by simply holding them close to the Mobile Touch Area. This can also be used to log in, print files, scan documents and import scanned data*3.
*2 Android OS 4.4 or higher and PageScope Mobile must be installed.
*3 Initial setup required for logging in. Wireless LAN environment required for printing and scanning.