Redefining the class
The number of high-mix low-volume print jobs continues to increase and print companies need to complete orders within shorter lead times. Printing demands that were difficult to fulfil with conventional presses can now be processed efficiently thanks to the flexibility of digital printing.
The bizhub PRESS C71cf is ideal for label printers who are looking to shift volumes from conventional presses to digital – in order to deal with shorter print run lengths, requests for faster delivery times, personalisation and versioning, and the production of on-demand runs.
The bizhub PRESS C71cf offers outstanding productivity, brilliant image quality and a surprising ease of use: our innovative label printer is ideal to expand into new markets and perfectly complements existing analogue machines.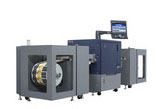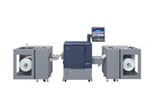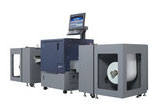 Specifications
Technical Specification
Print method
Dry-toner electrophotography
Colour support
Full colour (CMYK)
Printing resolution / gradation
1200dpi (3600dpi equivalent) x 1200dpi / 8bit
Max. printing image size
1195 x 320mm
Paper width
330mm
Printed image width
max. 320mm
Max. unwinder / rewinder diameter
φ500mm
Paper thickness range
60 to 250μm
Feeding speed (printing speed)
18.9m/min., 13.5m/min., 9.45m/min. *Speed depends on the paper type (standard speed: 13.5mm)
Compatible file formats
PDF, PS (APPE compatible), 8bitTIFF
VDP file format
PPML, PDF-VT
Printing media
Paper: Non-tack paper, tack paper, Film: Tack film (synthetic paper, PP, PET)
Power requirements
Engine: Single phase 200V 22A 50/60Hz
Roll feeder/winder: 3-phase, 200V, 4.1KVA 50/60Hz
Operating conditions
Temperature: 10 to 30ºc, Humidity: 10 to 80%RH. No condensation. 20%RH gradually decreasing to 10%RH at 10 to 20ºc.
[Range of guaranteed image quality] Temperature: 18 to 23ºc, Humidity: 40 to 60%RH
Details of Media
Media *1
Non-tack paper
Tack paper
(Peeling paper only. Total thickness: 250μm or less)
Paper
Plain paper
81 to 176gsm
136 to 256gsm
Gloss coated paper
81 to 176gsm (single side only)
Matte coated paper
81 to 176gsm (single side only)
Film
Synthetic paper (YUPO® *3)
–
136 to 176gsm *2
PP
136 to 176gsm *2
PET (Stretched type)
136 to 216gsm *2
*1: Incompatible depending on the media.
*2: Acrylic glue only.
*3: YUPO® is a registered trade mark of Yupo Corporation.
External dimensions, footprint
Dimensions
(W x D x H)
Main unit: 1,171 x 903 x 1,480 mm (operation unit included)
Roll feeder/Roll winder: 930 x 940 x 1,480 mm
Footprint
(W x D x H)
5,160 x 3,170 x 1,480 mm (operation unit included)
Weight
Main unit: 297kg
Main unit + Roll feeder/Roll winder: 949kg (floor plate not included)
The support and availability of the listed specifications and functionalities varies depending on operating systems, applications, network protocols as well as network and system configurations.
Specifications are based on the information available at the time of printing and are subject to change without notice.
Konica Minolta does not warrant that all specifications mentioned will be error-free.
All other brand and product names may be registered trademarks or trademarks of their respective holders and are hereby acknowledged.
Know the benefits of using a genuine toner
Beta Customer
As the first beta customer worldwide, in 2015 Litho Formas in Lisbon, Portugal, tested the bizhub PRESS C71f. Find out how Konica Minolta's innovative label printer became part of their family!
Make products come alive!
Include augmented reality features in your labels, and give your customers the opportunity to provide more information on their products. By making a wine label interactive, a movie can be shown, customers invited to an event, or for example nutrition facts displayed in a smart way.
Just follow these easy steps and find out how it works:
1. Download the Konica Minolta Augmented Reality App:
2. Click on this wine label to enlarge it: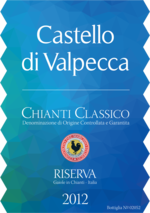 3. Open the Konica Minolta Augmented Reality App in your smartphone or tablet and scan the wine label.

See what happens? If you would like to know more about the possibilities of Augmented Reality, do not hesitate to get in touch with us!