Product Overview
Streamlined document workflows from the desktop
Most business users of multifunctional output devices look to streamlining their document-based processes to improve their own productivity, increase efficiency and save costs.
They will appreciate the Unity Document Suite as the ideal desktop document management solution that provides all the scanning, organising, search and archiving features they need to manage their desktop more efficiently.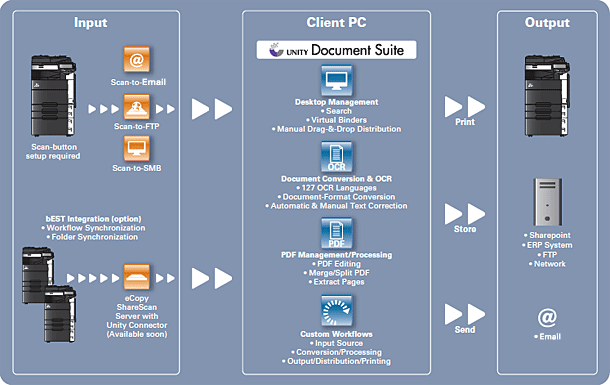 How Unity Document Suite can work for you
Here are a few solutions on how Unity Document Suite can benefit your business.
Solutions to reduce costs, improve patient care, comply with regulatory laws, and increase operational efficiency.
Solutions to offer and maintain safe, affordable housing while being responsive to ongoing tenant needs.
Solutions to increase productivity, reduce costs, and improve customer service.
Solutions to improve client service, increase staff productivity, and reduce costs for bottom-line results.
Features
Efficiency and flexibility for daily office work
Convert paper and PDFs into editable, searchable documents
Collaborate effectively and securely
Create industry-standard PDF files
Flexible personal scanning workflows