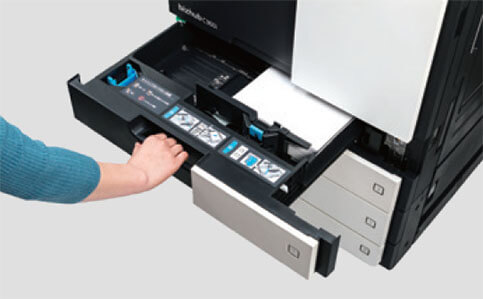 Lightweight paper trays
Paper trays handle easily and open/close smoothly with a light press and pull motion. Trays can be removed for retrieval of jammed paper, which equates to less downtime.
Paper feed and manual feed trays for 60 to 210 gsm paper
Both the main unit paper feed tray and manual feed tray support a wide range of paper from 60 to 210 gsm.
Feed error sensor
4750i series models are equipped with a sensor in the DSDF to detect any double paper feeds. An error message is displayed allowing the paper to be reset by the user, so now pages go missing during copying via the DSDF.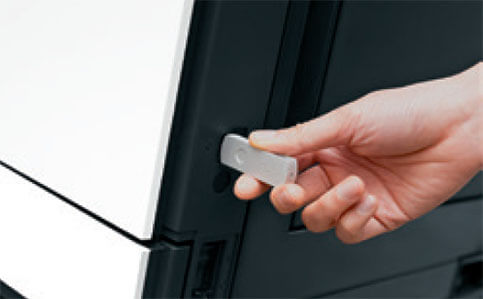 Print directly from your USB flash drive
bizhub 4750i series is equiped with a USB port, located on the side of the operation panel. After inserting a USB flash drive, printing procedures pop up in the touch screen, and the flash drive data can be directly printed or saved to a Box in the unit in a few easy steps.
May not operate correctly depending on the type of USB flash drive.
Supported file formats: PDF, compact PDF, JPEG, TIFF, XPS, compact XPS, and OOXML (.docx/.xlsx/.pptx).
Printing results may differ from the image on the PC screen.
Virus check function requires i-Option LK-116.
Enhanced 1,200 dpi resolution
The bizhub 4750i series achieves a 1,200-dpi print resolution with superb ability to reproduce small font sizes and fine lines. Such faithful reproduction capability improves document legibility and produces beautiful, high-quality print-outs. Slows down printing speed.
Carbon Copy Function
Output both actual form documents and marked carbon copies at the same time in a single print job. The carbon copy function supports settings for any number of copies. This eliminates the need to repeat tasks and makes workflow smoother.