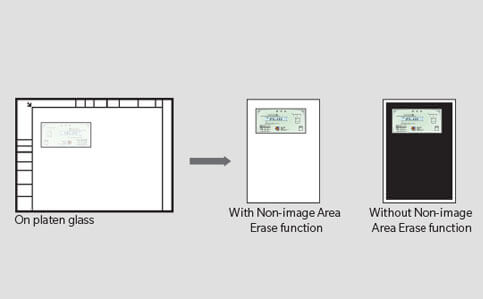 Reduce toner consumption with the Non-Image Area Erase function
When copying with the cover open, such as for thick books, the original is automatically detected and the shadowy area around the original is omitted. This saves excess toner consumption. Easy operation is possible by selecting the relevant apps on the User Interface.
Lightweight paper trays
Paper trays handle easily and open/close smoothly with a light press and pull motion. Trays can be removed for retrieval of jammed paper, which equates to less downtime.
Print banners up to 1,200 mm with banner printing
The bypass tray supports th feeding of banner paper and enables banner printing up to 1,200 mm. POPs and banners for a wide range of purposes can be created in a variety of sizes.
Print directly from your USB flash drive
The bizhub C266i series is equiped with a USB port, located on the side of the operation panel. After inserting a USB flash drive, printing procedures pop up in the touch screen, and the flash drive data can be directly printed or saved to a Box in the unit in a few easy steps.
May not operate correctly depending on the type of USB flash drive. Supported file formats: PDF, compact PDF, JPEG, TIFF, XPS, compact XPS, and OOXML (.docx/.xlsx/.pptx).
Printing results may differ from the image on the PC screen. Virus check function requires i-Option LK-116 and Expansion SSD EM-907.