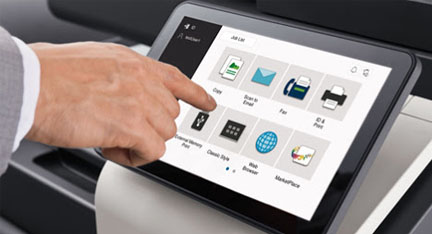 Easy-to-use, new operation panel design.
The operation panel features a new simple GUI (Graphical User Interface) design. Features including no hard keys and panel vibration feedback reflect familiar smart devices and enable easy use of a variety of IT services. Simplicity of operation has been achieved by concentrating on frequently-used functions to minimise functions and screen transitions.
Switchable GUI operation panel with a choice of two panel styles
The user can switch between two panel styles as required: the new GUI Basic Style characterised by simple operation, and the conventional Classic Style utilising advanced settings and functions.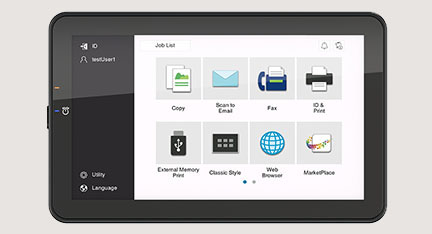 User friendly, large 10.1-inch touch panel
The 10.1-inch panel has been newly developed from the customer's perspective. It delivers better legibility and ease of operation for enhanced work efficiency. The multitouch feature enables smooth, intuitive tablet-like operation.
Panel vibration assists operation
Touching the panel triggers vibration feedback, assisting panel operation by users who are visually impaired.