Meet tight deadlines with greater productivity
High-speed printing for short runs and quick turnarounds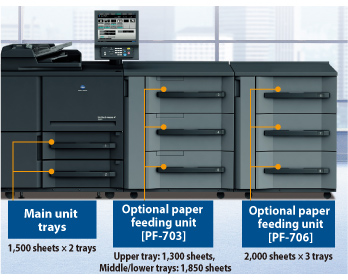 • 125 ppm (A4 horizontal), 70 ppm (A3)
• Significantly faster RIP speed with new CPU and optimised data processing
• Tandem output*: Max. 250 ppm (A4 horizontal)
* Optional
High paper capacity and on-the-fly consumable replacements
• Max. paper capacity: 14,000 sheets with the large capacity paper feeding units*. Auto-tray switch function keeps operations going without missing a beat.
• High-capacity toner can be replaced on the fly.
• Large-capacity stacker* with cart holds up to 10,000 sheets (with 2 stackers in tandem).
* Optional

Create more business with greater paper handling
Greater thin and thick paper support

• 40 g/m2 thin to 350 g/m2 thick paper stock*
* Thick paper support available only for optional Paper Feed Unit PF-703 and Paper Feed Unit PF-706 middle trays.
Full A3 outputs including crop marks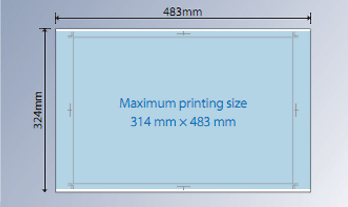 • Max. 324 × 483 mm paper (314 × 483 mm printable area)*
* PF-703 required
Envelope printing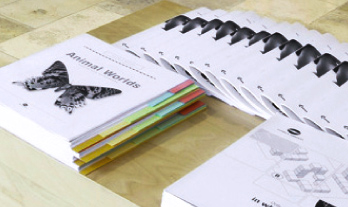 • New envelope fuser unit option*
* Paper other than envelopes cannot be fed when using the envelope fuser unit.Note: Please consult your service engineer for details regarding recommended paper,and envelope types and sizes.
Oher functions
• Register up to 256 types of paper with the Paper List (proile)
• Coated paper & embossed paper support
Error-free operation from start to finish
Air suction paper feeding system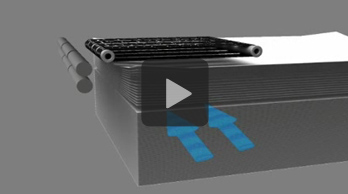 The high capacity Paper Feeding Unit PF-703* adopts an air suction paper feeding system that better adheres the paper to the conveyance belt for stable conveyance at all times.
* Optional
Multi-feed detection sensor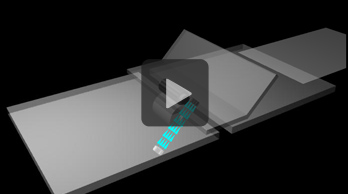 An ultrasonic sensor detects multi-feeding to prevent blank pages from being mixed in with the output.
Paper skew sensor
This sensor detects paper skews to prevent misaligned printing.
Hybrid decurling system*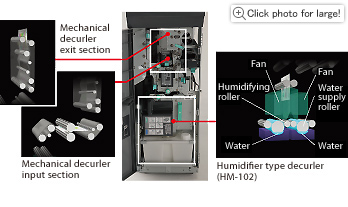 The Relay unit RU-509* employs a mechanical decurler and a humidifier-type decurler HM-102* to prevent paper curls. Each system is used according to the paper type to maintain high quality outputs even for booklets.
* Optional
Versatility to meet more orders
Versatility to meet more orders
From hole punching, folding, corner and centre stapling to perfect binding, high-performance, high-productivity inline finishers allow the bizhub PRESS 1250/1052 to be optimally expanded to handle an abundance of orders.
• Finisher FS-532
Compact all-in-one finisher
• Folding Unit FD-503
6-way fold, Hole punch
• Perfect Binder PB-503
Perfect binding
• Saddle Stitcher SD-506
Saddle-stitched booklets / Three-fold
• Large Capacity Stacker LS-505
• PI-PFU Unit FA-501
Large capacity cover sheet feeder when installed to PF-703
• Multi Punch GP-501*
• Auto Ring Binder GP-502*
• Relay Unit RU-509
Relay unit with mechanical decurler
• Relay Unit RU-510 Relay
unit with 2-ply reversal
Notes: Required for bizhub
PRESS 1250. Required for bizhub PRESS 1052 when equipped with PI-PFU –large-capacity
cover sheet feeder that equips FA-501 to PF-703.
Impressive image quality like never before
LED Print Head for 1,200 dpi high resolution outputs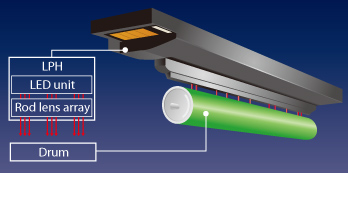 Achieve true 1,200dpi resolution outputs with the LED Print Head (LPH) which offers clearer reproduction of small text and smoother halftones.
Screen settings
Pre-setting screens (2 types of resolution in 3 patterns each) and dot screens are provided to maintain high resolution. High quality print images are provided by using the optimal screen to match the output.
| Preset screen | | 1,200dpi | 600dpi |
| --- | --- | --- | --- |
| Photo mode | Smooth gradations even for low-resolution photos | 120lpi | 86lpi |
| Text/Photo mode | Optimal setting for both text and photos | 170lpi | 106lpi |
| Text mode | Even small text are clearly printed for easy legibility | 212lpi | 141lpi |
Front and back printing position adjustments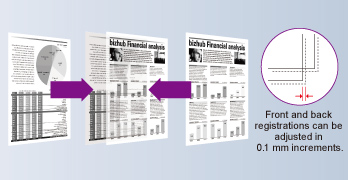 Highly accurate front- and back-side registrations are possible with image shift and independent magnification adjustment. Even the slightest shifts can be minutely adjusted to achieve higher quality duplex printing, trimming and bookbinding.
Tone curve utility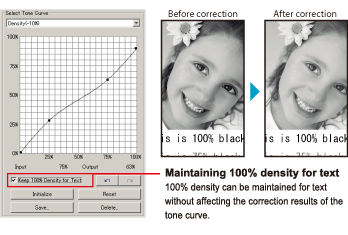 Fine tune brightness and contrast before printing without a dedicated software. Tone curve utility corrects these without affecting the density of text for true professional results.
Belt transfer system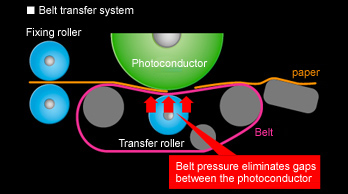 The belt transfer system improves the quality of the transferred images and paper feeding. The paper is adhered onto the transfer belt to eliminate any gaps, ensuring that the toner is consistently fixed onto the belt without unevenness. Incidences of images being cut at the paper's edge and transfer shifts caused by nip resistance are also minimised.
CIE colour space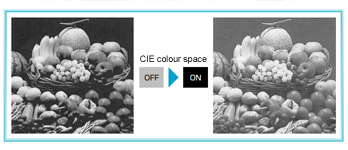 When outputting a colour original, the inputted image is temporarily converted to a CIE colour space and then optimally processed by converting it in the main unit's colour space. This method faithfully reproduces shadowed areas of images over the conventional simple conversion formula to provide richer gradation expressions.
* Output speed will be 10-20% slower.
Simitri HD toner

Simitri HD toner's optimised toner particle structure and smoother fixing improve transfer performance for clearer reproductions of small text and thin lines, as well as providing richer halftones and gradations for photos. Its low temperature fixing reduces paper curls and waviness to eliminate paper shifts during stapling and folding.
Improve efficiency with advanced operations
Improve workflow efficiency with job management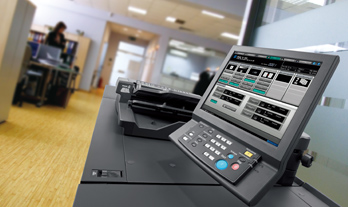 Streamline complex output operations with flexible workflow management.
• Streamline complex output operations with lexible worklow management.
– Job list display
– Job ticket editing
– Job schedule management
• Common user interface with bizhub PRESS/PRO colour devices
• Large 15-inch touch panel screen
Highly rigid frame and highly durable parts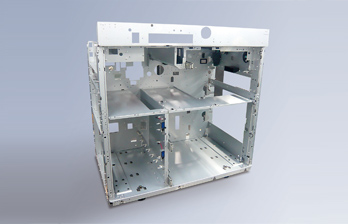 The bizhub PRESS 1250/1052 is built to withstand heavy and continuous use. The highly rigid frame with box-shaped dual-structured chassis prevents the main unit from vibrating and twisting for longer lasting performance.
High affinity with bizhub office devices
Main unit authentication and IC card authentication*

Reinforce information security with the main unit authentication which supports external servers such as Active Directory and centralised management of user information; and touch-type authentication using non-contact IC cards which only allows bizhub access with employee IDs.
* Optional
Use of recycled materials

Konica Minolta prioritises the use of materials and parts with low environmental impact for the bizhubs. Environmentally considerate recycled PC/PET and plant-based bioplastic are employed throughout the bizhub PRESS 1250/1052.
Centralised management and TCO reduction

Numerous technologies to reduce waste, energy and unnecessary costs are employed throughout the bizhub PRESS 1250/1052 without sacrificing quality and productivity. And centrally manage all of your output devices with PageScope Enterprise Suite for smoother operation.