1200 dpi resolution & superior image quality
True 1,200 dpi high-resolution outputs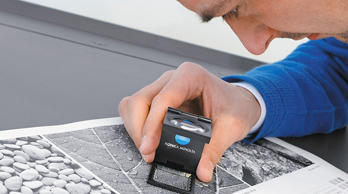 The bizhub PRO 951 achieves true 1,200 dpi resolution high printing quality thanks to the adoption of the LED Print Head and belt transfer system. Fine lines for charts and graphs and multi-gradation images can be clearly reproduced in high definition to produce convincingly easy-to-read documents.
LED Print Head (LPH)
The bizhub PRO 951 adopts an LED Print Head which employs an LED unit which achieves true 1,200 dpi high resolution for significantly enhanced reproductions of even fine text and screen gradations.

Belt transfer system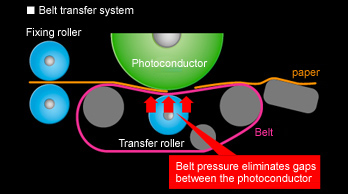 The belt transfer system improves the quality of the transferred images and paper feeding. The paper is adhered onto the transfer belt to eliminate any gaps, ensuring that the toner is consistently fixed onto the belt without unevenness. Incidences of images being cut at the paper's edge and transfer shifts caused by nip resistance are also minimised.
Screen settings
Pre-setting screens (2 types of resolution in 3 patterns each) and dot screens are provided to maintain high resolution. High quality print images are provided by using the optimal screen to match the output.
| Preset screen | | 1,200dpi | 600dpi |
| --- | --- | --- | --- |
| Photo mode | Smooth gradations even for low-resolution photos | 120lpi | 86lpi |
| Text/Photo mode | Optimal setting for both text and photos | 170lpi | 106lpi |
| Text mode | Even small text are clearly printed for easy legibility | 212lpi | 141lpi |
| | |
| --- | --- |
| Dot screen | Number of lines, angle and shape can be specified. Useful if moiré patterns are a concern. |
*lpi = lines per inch. A unit for the number of screen lines.

Tone curve utility

Standard equipped tone curve utility corrects brightness, contrast, and more for print jobs quickly. It significantly improves both work efficiency and image quality.

CIE colour space

When outputting a colour original, the inputted image is temporarily converted to a CIE colour space and then optimally processed by converting it in the main unit's colour space. This method faithfully reproduces shadowed areas of images over the conventional simple conversion formula to provide richer gradation expressions.
* Output speed will be 10-20% slower.

Front and back printing position adjustments

Highly accurate front- and back-side registrations are possible with image shift and independent magnification adjustment. Even the slightest shifts can be minutely adjusted to achieve higher quality duplex printing, trimming and bookbinding.

Simitri HD toner

Simitri HD toner's optimised toner particle structure and smoother fixing improve transfer performance for clearer reproductions of small text and thin lines, as well as providing richer halftones and gradations for photos. Its low temperature fixing reduces paper curls and waviness to eliminate paper shifts during stapling and folding.

High productivity beyond its class

High-speed 95 ppm outputs

The bizhub PRO 951 achieves a 95 ppm* copying and printing speed for both simplex and duplex outputs. And with 55 ppm* for A3 outputs, booklets and imposition data can be created quickly. Enhanced printer controller performance accelerates data processing to increase productivity for high volume multi-page jobs.
* Using 40~162g/m2 paper (limitations may apply according to paper type and environment)


High-productivity tandem system

Combine two bizhub PRO 951's to expand into a tandem system that can process one job with two systems. This improves productivity by increasing the number of outputs to 190 ppm* (A4 horizontal). Even when one device stops due to reasons such as toner depletion, recovery outputs can be made with the other system to keep the job going consistently. The tandem system offers sufficient capacity for even high volume jobs.
* Using 40~162g/m2 paper (limitations may apply according to paper type and environment)

Expanded paper handling

Full A3 outputs (19 inches) including crop marks

Achieve full A3 outputs including crop marks with the optional Paper Feeder Unit PF-706 and Large Capacity Unit LU-410. The maximum paper size in the sub scanning direction can be extended to 19 inches (483 mm). Even 324 mm x 483 mm irregular size paper can be used providing a maximum printable area of 314 mm x 483 mm*.
* With optional Large Capacity Unit LU-410 installed.


Flexible system that promotes in-house outputs

Large Capacity Units LU-409/LU-410 Paper Feed Unit PF-706

Minimise the downtime required for reloading paper. Large Capacity Units LU-409 and LU-410 hold up to 4,000 A4 sheets* and 4,000 A3 sheets* respectively, while the Paper Feeder Unit PF-706's 3-layer cassette holds up to 6,000 A3 sheets*. Together with the main unit's 3,000-sheet* capacity the bizhub PRO 951 holds up to 9,000 sheets so it can handle large print runs with ease.

* 80 g/m2


All-in-one finisher FS-532

The FS-532 is an exceptional all-in-one finisher designed for both professional and entry-level operators, providing the flexibility to meet the varying finishing needs of customers. In addition to standard stapling, it can be equipped with the Post Inserter PI-502*, Punch Kit PK-522, and Saddle Stitcher with tri-fold function SD-510.
* Optional Mount Kit MK-732 required with PI-502.

Z-Folding Unit with hole punching function (ZU-608)

* Optional

This finisher employs both Z-folding and hole-punching functions. Diagrams and flow charts printed in A3 (or B4) size can be Z-folded and inserted into A4 (or B5) size booklets. Detailed diagrams can be inserted without having to reduce their sizes.

Excellent reliability for heavy professional use

Highly rigid frame and highly durable parts

The bizhub PRO 951 is built to withstand heavy and continuous use. The highly rigid frame with box-shaped dual-structured chassis prevents the main unit from vibrating and twisting for longer lasting performance.

High affinity with bizhub office devices

Main unit authentication and IC card authentication

Reinforce information security with the main unit authentication which supports external servers such as Active Directory and centralised management of user information; and touch-type authentication using non-contact IC cards which only allows bizhub access with employee IDs.

Use of recycled materials

Konica Minolta prioritises the use of materials and parts with low environmental impact for the bizhubs. Environmentally considerate recycled PC/PET and plant-based bioplastic are employed throughout the bizhub PRO 951.

Centralised management and TCO reduction

Numerous technologies to reduce waste, energy and unnecessary costs are employed throughout the bizhub PRO 951 without sacrificing quality and productivity. And centrally manage all of your output devices with PageScope Enterprise Suite for smoother operation.